Chinese wines get a grand showcase to shine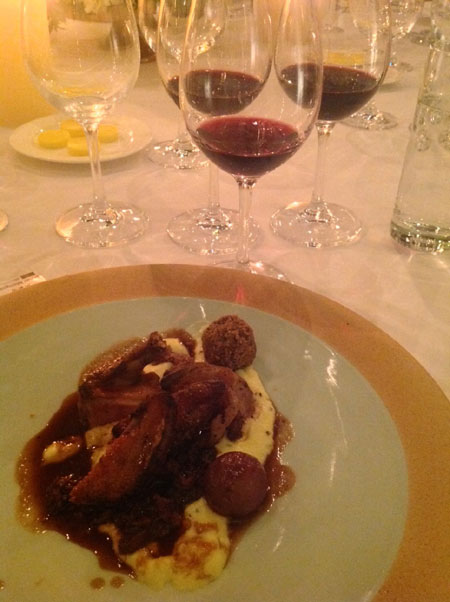 A pigeon entree paired well with a series of hearty reds. [Photo by Mike Peters/China Daily]
The caricature of a wine expert from France would no doubt say French wines are magnifique. Italian wines? (Promising.) German wines? (Don't make me laugh.) New World wines? (Don't even go there.)
So what would real-life French wine experts make of today's Chinese wines?
I had a chance to find out last week at a pairing and tasting dinner, featuring comments by French wine journalists and critics Michel Bettane and Thierry Desseauve, authors of a globally respected annual wine guide. I was so intrigued by the prospect, in fact, that I uncharacteristically shelled out 880 yuan ($140) to check it out.
The dinner offered a second bonus: It was the first at the new special-events venue being opened by Temple Restaurant Beijing, often lauded as the capital's finest restaurant. The new spot, Copper, is an elegant, airy space crowned with a curved ceiling of ancient wood, like the hull of a overturned ship.
In 2012, I attended a symposium on Chinese wine, hosted by local experts. The consensus: Anyone who paid more than 300 yuan for a bottle of Chinese wine was an idiot. The logic: A 400-yuan bottle might not be bad wine, but for that money you could buy a much better bottle of French, Italian, Spanish or Chilean wine here.
So what would French critics-perhaps the most demanding and credible of oenophiles-have to say about Chinese wine three years later?
It is a night for praise, beginning with Helena Javitte, president of the Youth French Chamber of Commerce in Beijing, who declares the eight bottles on offer to be "Chinese treasures with French knowledge".
The cocktail hour begins with two Ningxia whites-Chandon sparkling wine (blend) and Kanaan Riesling 2013-followed by six vintages paired with dinner courses. The next day, the experts would reconvene with industry folks and sample 180 vintages.