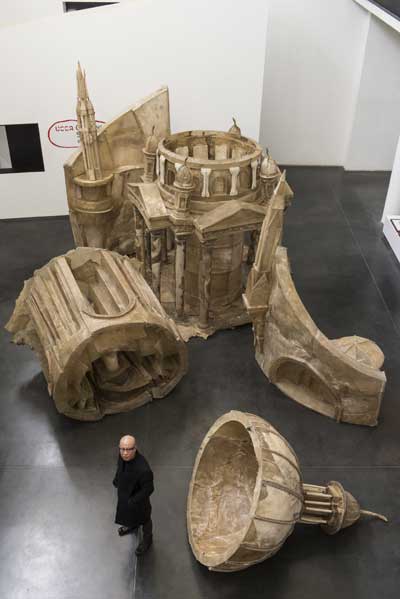 Liu Wei stands among his work Love It, Bite It in his solo show Color in Beijing, where the exhibition rooms are filled with large installations. Photo provided to China Daily
Although Liu Wei is considered a conceptual artist, he denies the label rather strongly. He says that he isn't against conceptual art, but because he has made so much "concrete stuff over there (at exhibition venues)", he cannot be described as a conceptual artist.
He demonstrates his commitment to the concrete rather than the conceptual at his current exhibition at Beijing's Ullens Center for Contemporary Art, where he juxtaposes his mainly large paintings, videos and installations.
At the "mid-term retrospective", the Beijing native, 43, has filled UCCA's entrance and an exhibition hall with the industrial "stuff" he and his team spent weeks putting together: edging iron chips, mirrors, stainless steel structures, wooden blocks of various shapes and giant rectangle boards wrapped in canvas.
There are no definite, obvious borders between these occupying installations and the surroundings, and the spectators. People can just walk into or get very close to them, as if they were visiting the studio of an artist who works with different material.
Actually, the way the works are scattered at the venue does resemble Liu's studio in Beijing's Shijiacun Village, except hat, Liu's assistants point out, there are no discarded cigarette butts on the floor.