Angelina Jolie gives inspirational speech at Kids' Choice Awards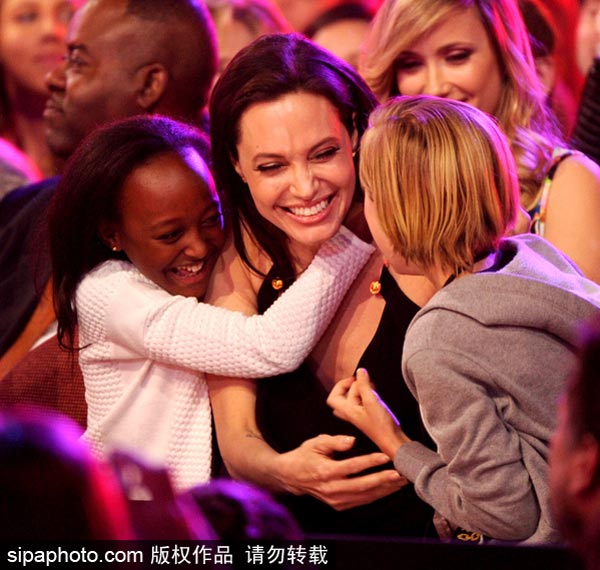 Zahara Jolie-Pitt (left) and Shiloh Jolie-Pitt (right) hugs their mother and actress Angelina Jolie at the Nickelodeon's 28th Annual Kids'Choice Awards on March 28. [Photo/SIPA]
The traditional green slime flowed at the Kids' Choice Awards, but it was Angelina Jolie's message of empowerment for youngsters that stuck.
Jolie, who has sought to inspire women with public candor about her own health, said that "different is good" as she accepted the favorite villain award Saturday for her movie role as the title character in "Maleficent."
When she was young, Jolie said, "I was told I was different. And I felt out of place: too loud, too full of fire, never good at sitting still, never good at fitting in."
"When someone tells you that you are different, smile and hold your head up and be proud," she said, then added with a wink, "cause a little trouble. It's good for you."
The actress and filmmaker, who disclosed earlier this week that she had undergone additional surgery aimed at preventing cancer, received excited hugs from daughters Shiloh and Zahara when her name was announced.
Other winners at the Nickelodeon channel's fan-voted awards included Emma Stone, who largely escaped its trademark slime when she accepted the best actress award for her role in "The Amazing Spider-Man 2," and favorite family TV show "Modern Family," whose stars including Jesse Tyler Ferguson didn't get away clean.