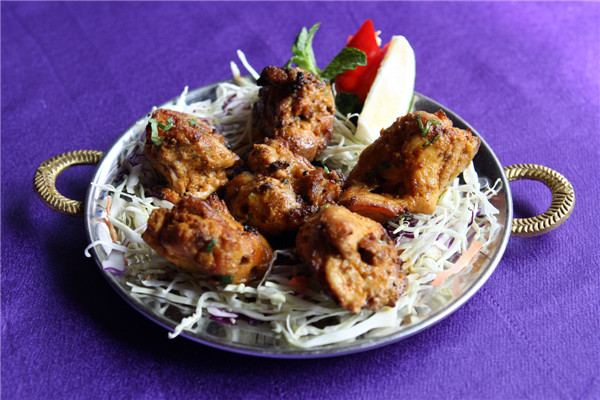 Tandoori-style chicken tikka. [Photo provided to China Daily]
Hazara, a North Indian eatery in Beijing, focuses on austere tandoori dishes as well as rich handi dishes.
Being dazzled by the enormous number of Chinese and Western eateries in Beijing, we decided to try something different to tempt our taste buds. Our recent visit to an Indian restaurant near the Workers Stadium turned out to be a great discovery. The exotic flavors in a seductive setting made us feel like we had stepped back in time.
The restaurant Hazara is named after "the Hazaras", a central Asian tribe in the northern mountains of the Indo-Afghan border who are believed to have a long history of trading activities along the Silk Road. Hazara and Lan Na Thai restaurant are the two dining rooms of Face Beijing, a boutique hotel that mimics the ancient inns along the Silk Road with an antique-filled Asian decor.
Hazara has Indian-style decor with an opulent collection of wooden ornaments, two antique dowry storage boxes, and a large bronze handi. Huge ancient timber beams are set up to capture the feeling of dining in a private mansion.
It serves "frontier" cuisine from northern India that focuses on austere tandoori dishes as well as rich handi dishes. All meat served in the restaurant is halal.
"North Indian cuisine is well-known for its balanced seasoning and frequent use of the traditional tandoori oven. It's less spicy, more subtle than southern regions," says the restaurant's Chef Vikram Singh from New Delhi.