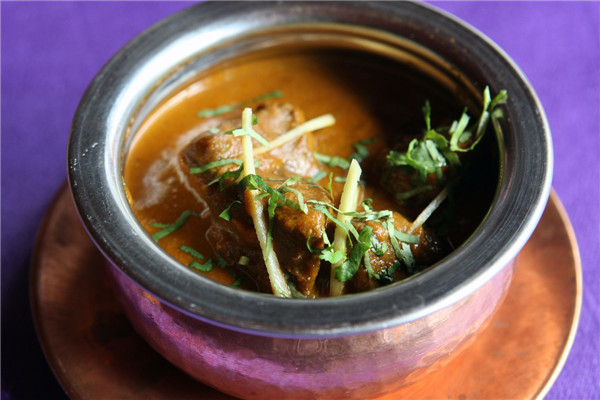 Fresh lime and a creamy mint sauce to pair with tandoori. [Photo provided to China Daily]
We started with the traditional Indian snack punjabi samosa - crispy deep-fried triangular pastry with a potato, pea, and rich masala paste filling. The samosas are a fantastic appetizer because they prepare our taste buds for the zesty Indian cuisine.
Samosas were served with tamarind chutney, a tart-yet-sweet dipping sauce deep orange in color. The flavor sounds exotic and unusual to me, and I couldn't say for sure whether I liked it or not.
The rogan josh was unbelievable - in a good way. The aromatic dish had succulent lamb shanks that were the most tender I've ever eaten.
The secret to the tender meat was that the lamb was simmered in a handi, a traditional heavy-bottomed Indian cooking vessel, for about 5 hours over a low flame. No wonder the meat was incredibly delicate, fully covered with the crimson-colored onion gravy made from yogurt, garlic, ginger, and spices such as cardamom, bay leaves, and cinnamon.
The awesome tandoori-style chicken tikka is unexpectedly good, and excels any version of grilled chicken. Boneless chunks of chicken thighs with deep slits were threaded on mental skewers and marinated for about an hour with Hazara's homemade yogurt which helped to tenderize and to retain the juiciness, says Chef Vikram Singh.
"A mix of spices is a must in the marinade to infuse rich flavors, which involves coriander powder, cumin powder, red chili, mustard, ginger, and garlic," he says.
Then the skewers of meat are lowered into the fiery, bell-shaped, one meter long Tandoori oven for 15 minutes with an internal temperature of about 45 degrees centigrade.