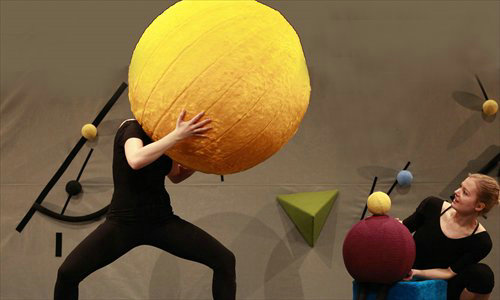 A scene from Danish play A Short Long [Photo/ Courtesy of Zhou Ying]
Around the International Children's Day holiday, various theaters across China, from big theaters like the China National Theatre for Children (CNTC) to small private troupes, are busy putting forward a feast of plays to attract the attention of young audiences.
Every year an increasing number of parents are beginning to take their kids to theaters as a perfect gift for the annual holiday for children. But while parents are eager to provide "spiritual food" for their kids, they should probably keep a sharp eye out in this blooming market intermingled with good plays and bad ones.
"More and more people are joining the army of children's theater, but generally speaking its development is still lagging behind though it appears to be flourishing. Many plays are not sincerely made and underestimate the imagination and understanding capabilities of children," said Zhou Ying, a director with the Feitongyiban Art Troupe.
Booming performances
Last year, there were 10,377 performances of plays for children, earning total sales of 326 million yuan ($52.5 million) and reaching 4.8 million audiences, an increase over 2013 according to a study recently published by the Daolue Center for Cultural Industry Research.
The survey also indicated that the popularity of plays for children has also pushed many amateur theater groups to join in the creation and performances of plays for children. Statistics show that there were 205 theater groups for children in China in 2014, among them 129 were privately run.
The ongoing explosion and packed number of performances around International Children's Day backs the veracity of these statistics. Plays for children in various forms and content, either from overseas or homemade, are taking to the stage across the country.
Needless to say, traditional theaters like the CNTC are presenting their stock in trade, but even theaters such as the National Centre for the Performing Arts, which is holding its 8th Beijing Children's Play Season this year, are pushing forward to stage plays for young audiences.
In addition, a large number of private groups are busy presenting or preparing all kinds of performances, injecting richness and creativity into the market and allowing more possibilities for the development of children's theater in China.
The content of these plays vary and include both classics and newly created shows. This year, CNTC is staging its own creation, Hutong.com, which uses vanished "Beijing voices" to call for a return to tradition. Meanwhile Feitongyiban is introducing A Short Long from Denmark, a play about geometric shapes for kids aged 18 months-6.
"The popularity of plays for children to some extent reflects the fact that the cultivation of children's artistic understanding is emphasized by today's society," remarked Dong Ning, general manager for the Beijing Children's Art Theatre as quoted by People's Daily.