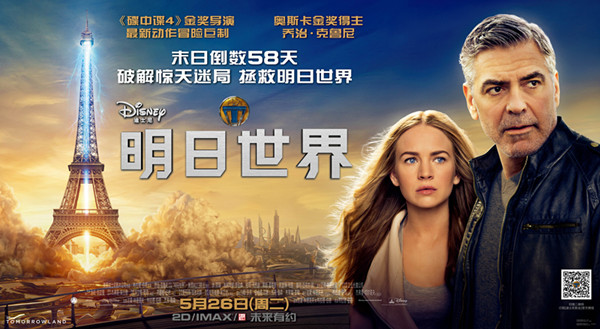 A poster for the movie Tomorrowland [Photo/IC]
After an unexpectedly disappointing $41 million North American box office for Tomorrowland over the the Memorial Day weekend, it's reported that the film's producers are turning to China to reduce their losses for the $190 million picture. That's according to a report by American business magazine Forbes.
Titled Can China Save Disney's Tomorrowland'?, the article defines China as a "a sort of haven of second chances for films that disappoint in North America and Europe", and that Chinese audiences often "go against the global tide".
According to statistics published by IMDB, Boxofficemojo.com and Boxoffice.com, films badly received in the US enjoy a high popularity in China. For example, Need for Speed, Escape Plan and Pacific Rim gained a much bigger box office in China than in the US, consisting of 33%, 34% and 28%, respectively, of the global selling gross.
Meanwhile, foreign pictures such as Bait 3D and The Expendables 3 were warmly welcomed by audiences only in China.
Fast economic growth, improved quality of life and people's preference forinternational big budget films makes China a hot destination for Hollywood productions. So, is China really the hedge for Hollywood flops?
"Many Chinese audiences are new film viewers and their appreciation of those works are not fully developed. So it is easy sometimes to generate the situation where the film quality and box office are upside down in the Chinese market, " said Raymond Zhou, a well-known columnist and movie critic. He said that compared to western audiences, the art of film is still a relatively new entertainment in China.
"The maturity of the Chinese film market is more of less equivalent to the 1980s in other industries," Zhou explained.
According to Xinhua Daily Telegraph, China is regulated to import no more than 34 Hollywood films, which is a drop in the bucket compared to the whole production of the major film making center. Therefore, many good films don't get screened by a Chinese audience, and yet those that have, even with 'flop label' in the West, do enjoy better production quality than domestic works.