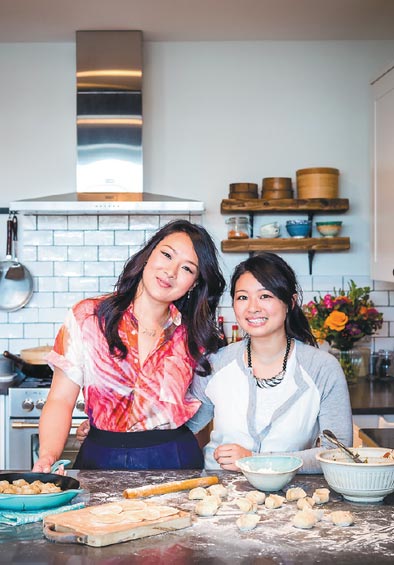 Amy and Julie Zhang launch a new book sharing more than 100 of their favorite recipes titled The Dumpling Sisters. Photo provided to China Daily
For Amy and Julie Zhang, cooking Chinese food means much more than filling their stomachs or enjoying a delicious meal: It is about reliving sweet childhood memories that they grew up with and their eagerness to share their passion for cooking with the world.
Originally from Guangzhou, the sisters grew up in New Zealand where they helped their parents cook and sell food from their food cart at a Sunday market every week.
"From a very young age we worked alongside our mom and dad and our little brother. Sunday was our favorite day, when we'd go to the market. We would pile into Dad's van, and tow our food cart. We've fed generations over the past 20 years, as some families came and their children came and their grandchildren came," says Amy.
Amy, 29, was 2 when the family moved to Christchurch, where Julie, now 25, and their younger brother, Justin, was born.
Growing up in the family business there prompted the two sisters to develop a love for Chinese food. Later they traveled across the world to the UK for university, but ultimately their love for food has led them to launch a new book, sharing more than 100 of their favorite recipes, titled The Dumpling Sisters.
The book, which hits bookstores in Britain next week, features sections on dim sum, sharing menus, noodles, baked goods and desserts. Unlike traditional cookbooks that featured only the prescriptive recipes, each recipe in The Dumpling Sisters has lots of instructions that allow readers to understand what the food should look like at each stage of cooking, so they know that they are on track.
Recipes also have little notes that link dishes back to Chinese culture and cuisine, to give readers an insight into the importance of food in Chinese culture. For example, it introduces to readers details of the Chinese concept of "hau gum" (literally 'mouthfeel'), which is how Chinese food is described at home.