Duck learns new tricks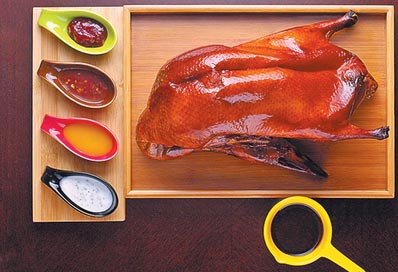 Fine-dining restaurant The Red Chamber and chef Yuan Chaoying, a Peking roast duck master, have teamed up for a new take on this traditional delicacy in China's capital.
Every duck is glazed in a dark date-red color, and is presented on a hot stone plate to preserve the aroma and texture in precise slices. The pancakes used to wrap the duck are transparent but still have substance, and a tasty and healthy salad is also studded with duck meat. Apart from the traditional sauce, the restaurant provides five new sauces, including yogurt, black-pepper and plum dippings.
4/F, China World Mall Phase 3 in the CBD; book at least one day in advance at 010-85716459.
Related:
Report debunks 5 top food myths