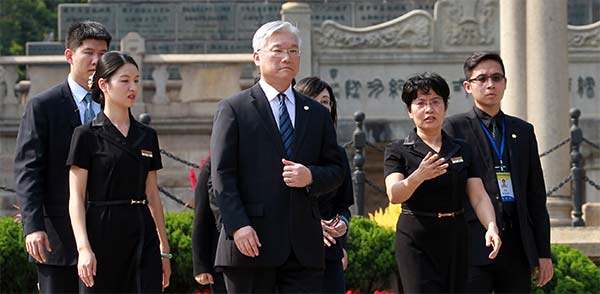 Taiwan's mainland affairs chief, Andrew Hsia, visits the Huanghuagang Mausoleum of the 72 Martyrs in Guangzhou on Wednesday during a trip for a meeting on allowing mainland air passengers to transfer in Taiwan. ZOU HONG/CHINA DAILY
Authorities from the mainland and Taiwan have yet to reach a consensus on an agreement on allowing air passengers from the mainland to transfer in Taiwan, after a fourth meeting between senior leaders from both sides on Wednesday.
"We hope an agreement on allowing mainland people traveling overseas via Taiwan would take effect by the end of this year. But a consensus is yet to be reached because both sides need to optimize details of the agreement," said Andrew Hsia, Taiwan's mainland affairs chief. He did not elaborate on such details.
Hsia made the remarks on Wednesday after a work meeting in Guangzhou, the capital of Guangdong province, with his mainland counterpart, Zhang Zhijun, director of the Taiwan Affairs Office of the State Council.
Hsia said: "Allowing mainland passengers to transfer in Taiwan will be very helpful to boosting the service industry in Taiwan. It would also benefit mainland air passengers, as it will take less time to travel overseas via Taiwan airports."
Airports in Taiwan have upgraded facilities and optimized international air routes in preparation for launching the service, Hsia said.
In addition to meeting with Zhang, Hsia visited some Guangzhou landmarks, including Sun Yat-sen University, the Huanghuagang Mausoleum of the 72 Martyrs, and the Memorial Museum of Generalissimo Sun Yat-sen Mansion. Sun (1866-1925) was the founder and first provisional president of the Republic of China (1912-49).
Hsia will also pay a visit on Thursday to Dongguan, a manufacturing city neighboring Guangzhou, where a large number of Taiwan-invested businesses are located, and will talk with Taiwan businesspeople.
During the meeting on Wednesday, the two sides discussed aspects of cross-Straits relations including the strengthening of regional economic cooperation, exchanges among grassroots people, environmental protection and commodities trade.
Zhang, the mainland's Taiwan affairs chief, said questions on cross-Straits relations should be better negotiated in accordance with the 1992 Consensus and opposition to Taiwan "independence".
"Both sides agreed to maintain a regular communication mechanism to better discuss issues on cross-Straits relations," Zhang said.
Ma Xiaoguang, spokesman for the Taiwan Affairs Office of the State Council, said the authorities would not introduce measures to stop people from the mainland from visiting Taiwan in the near future. "We have not learned of any sources … which will prevent mainland visitors to Taiwan before elections in Taiwan," said Ma.
According to the Taiwan Affairs Office of the State Council, more than 9.41 million people made trips between the mainland and Taiwan last year-a record high and a year-on-year increase of 16.52 percent.
Additionally, the number of tourists from the mainland who visited Taiwan soared to 3.22 million last year, a year-on-year increase of 47 percent, it said. The meeting in Guangzhou was the fourth round between the two sides since last year, and insiders said it would be helpful to strengthen dialogue toward a peaceful development of cross-Straits relations in the future.
"The meeting is of great political significance to a peaceful development of the cross-Straits relationship, sending a signal of strengthening ties by maintaining a regular communication mechanism after a new government is elected in Taiwan within half a year," said Zhu Songling, a professor at the Institute of Taiwan Studies at Beijing Union University.