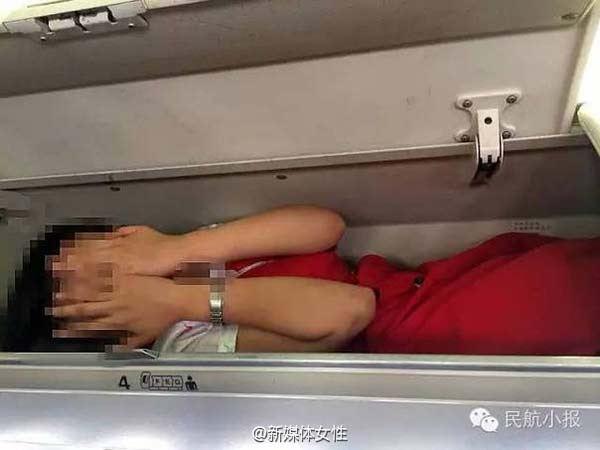 An undated photo shows an airline stewardess curls into a luggage locker with hands covering her face in an airplane. [Photo: weibo.com]
Kunming Airlines, which became the target of an online furor after photos of its stewardesses being forcibly pushed into a plane's luggage compartment went viral, hit back on Tuesday claiming facts had been distorted.
"Several air stewardesses are angry at the online distortion of their happy ritual. Usually a fresh stewardess will be placed in a luggage compartment to celebrate completing 30-50 hours of flying, or a new chief stewardess will celebrate in such a way after finishing her first flight," the airline said via its official account at Sina Weibo, China's Twitter-like social platform.
The airline quoted stewardesses as saying that they were happy when being placed in a luggage compartment. It stressed that it was for fun and no malicious actions were involved.
The original post about bullying began to circulate on social media on Sunday, claiming that several fresh stewardesses were forcibly 'stuffed' into a luggage compartment by security officers.
The post claimed the practice, which was called a "tradition" by the officers, has been repeatedly conducted for four or five years. Stewardesses were reluctant but also concerned at not being cooperative with their colleagues.
Some photos were also posted showing stewardesses curling up in the luggage compartment with hands covering their faces. A male staff member, believed to be a security officer, was also seen and even posed with a huddled stewardess.
The post went viral online and aroused anger among Chinese web users. Some netizens questioned whether the security officers were capable of guaranteeing the safety of passengers when they engage in such dangerous behavior.
According to a report in the Beijing News, Kunming Airline has investigated the incident and claimed it was an individual case.
The airline said such "traditions" happen after crews complete their flight and do not affect public safety.
The report quotes sources from the company as saying: "This was like a ceremony for new attendants to join the crew. It is prevalent among other foreign airline companies. But the company has paid attention to the incident and pledged to prevent this from happening again due to its negative effect to the image of the company".