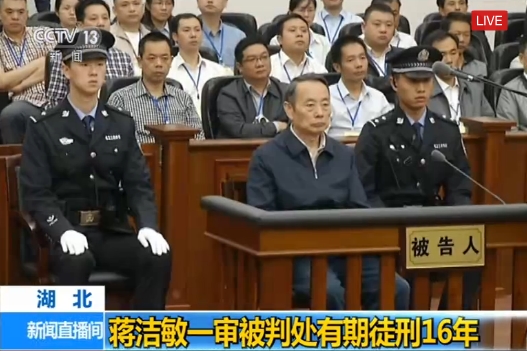 The screen grab of China Central Television shows Jiang Jiemin in court.
BEIJING - Jiang Jiemin, former head of the State-owned Assets Supervision and Administration Commission, was sentenced to 16 years in prison on Monday by a local court in central China's Hubei Province.
Jiang, 60, was found guilty of taking bribes, holding huge amount of property with unidentified sources and abusing power. His personal assets worth 1 million yuan (about 160,000 US dollars) were also confiscated, the Hanjiang Intermediate People's Court said.
Jiang was chair of the board of China National Petroleum Corporation (CNPC) before working for the state-assets commission in March 2013.
The court also ordered to confiscate other property he took as bribes or with unidentified sources as well as illegal earnings others got with his help.
Jiang accepted his sentence and will not appeal.
The court found that Jiang received 14 million yuan in bribes between 2004 and 2013 to help others get construction contracts and job promotions.
By the end of August 2013, his personal and family property exceeded the legitimate earnings and he had 14.8 million yuan unaccounted, the court said.
With instruction and consent from Zhou Yongkang, a former member of the Standing Committee of the Political Bureau of the Communist Party of China Central Committee, Jiang violated regulations by helping others in businesses, causing huge losses to the state, it added.