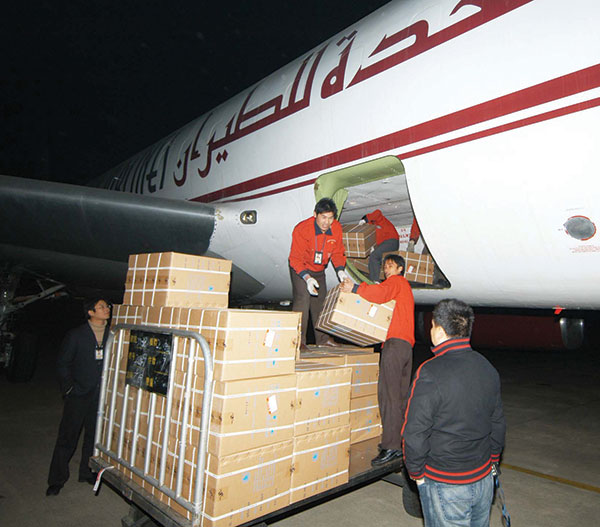 Guilin Pharmaceutical (Shanghai) Co Ltd's workers load qinghaosu vaccines onto a plane for export. Qinghaosu, or artemisinin, is a semi-synthetic derivative for a group of drugs that have proved successful in treating malaria. [Photo provided to China Daily]
Chinese company has rolled out a range of artemisinin drugs to combat the disease in South Asia and Africa
A Chinese pharmaceutical company is making major inroads into overseas markets by developing the next generation of drugs to fight malaria.
Guilin Pharmaceutical (Shanghai) Co Ltd, or GPSC, has enhanced its international reputation after rolling out a range of artemisinin products to combat the disease.
Also known in Chinese as qinghaosu, artemisinin is a semi-synthetic derivative for a group of drugs that has proved incredibly successful in treating Plasmodium falciparum malaria, which is spread by mosquitoes.
"Innovation is crucial in the pharmaceutical marketplace," Wang Qunbin, president of Fosun Group, which owns Fosun Pharmaceutical and GPSC, said from the company's Shanghai headquarters.
"Quality is also vital if a Chinese brand is to go global."
The country has a proud history in research and development of malaria vaccines.
Tu Youyou, a Chinese medical scientist and pharmaceutical chemist, discovered artemisinin and dihydroartemisinin, which are used to tackle the disease in high-risk countries in Africa, South Asia and South America.
Her pioneering work in the 1970s was inspired by ancient Chinese medical remedies and it has since saved millions of lives.
Now aged 85, Tu was awarded the Nobel Prize for Medicine this year-the first Chinese scientist to win the coveted accolade. "The discovery of artemisinin was an example of successful collective efforts," she told the media after the Nobel announcement. "It's a gift that traditional Chinese medicine has for the world."
That "gift" has sparked further research into the development of vaccines to halt the spread of malaria with GPSC perfecting artesunate, which is part of the artemisinin group of drugs.
The product has been registered in dozens of countries and regions, while the World Health Organization recognizes it as one of the most effective vaccines on the market.
"Focusing on international business, we develop, produce and market various kinds of pharmaceutical products, including anti-malaria drugs, and generic pharmaceuticals," GPSC said on its website.
"We market our products in developing countries, and supply them to clients all over the world, such as the WHO and UNICEF as well as other governmental, profit-and non-profit organizations."