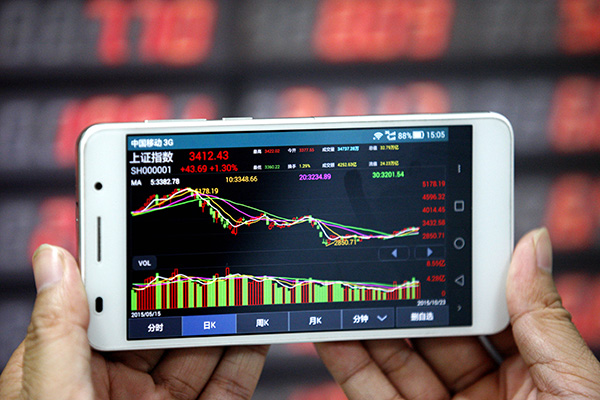 A stock indicator shows the benchmark Shanghai Composite Index on Oct 24, 2015. [Photo by Xie Zhengyi/Asianewsphoto]
BEIJING - Chinese President Xi Jinping's latest remarks on the stock market have charted a course for future reforms and signaled a bigger role for the market in supporting the economy, analysts said.
During a meeting of top economic officials on Tuesday, Xi urged the development of a stock market with sound financing functions, regulation and investor rights protection.
By giving priority to the financing role of the stock market, the president's call was a response to some deep-seated problems plaguing the market, such as excessive controls on initial public offerings (IPOs) and rampant insider trading, many economists observed.
"Xi's remarks set the future direction for stock market development," said Xu Gao, chief economist of Everbright Securities. "The market has not performed well as a financing vehicle, which should actually be its fundamental role."
Unlike in more mature economies like the United States, the stock market only contributes a small part to corporate financing in China.
Direct financing, including stocks and bonds, took up less than a fifth of the country's total social financing, according to official data for the first eight months of 2015.
While the government tries to expand the share of stock financing, the public often sees the market as a tool for money grabbing by listed firms instead of a platform for value investment.
To let the stock market play a better role in financing, the government needs to improve its rules in various ways, including overhauling the current approval system for IPOs and reducing interventions in their pricing, said Li Xunlei, chief economist with Haitong Securities.
Investors should also be allowed to use more effective legal means, such as class action lawsuits, to protect their legitimate interests and increase compensation costs for listed firms who cook the books, according to Lin Caiyi, chief economist of Guotai Junan Securities.
China's stock market has seen rapid development, but listing and trading is still distorted by administrative forces and imperfect regulation rather than based on corporate performance.
For example, IPOs are limited in number and require authorities' approval, while the supply of funds is unrestricted as millions of individual investors seek returns that are better than bank interest rates.
As a result, the prices of newly listed shares are usually pushed high, providing hefty profits for original shareholders of the listed companies.
Meanwhile, lack of truthful information disclosure and frequent insider trading often lead to market volatility, causing losses for retail investors.