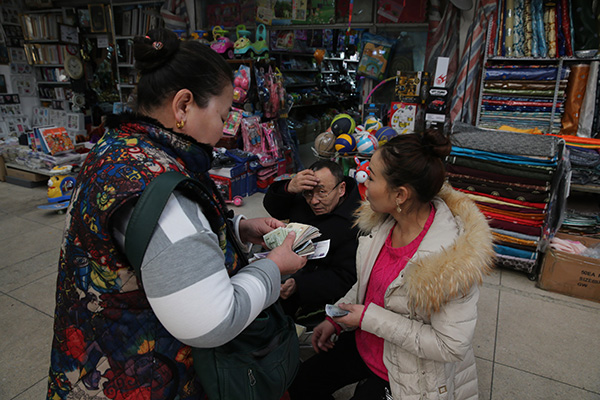 A shopper counts bills before paying for goods at a shopping mall in Erenhot, Inner Mongolia. [Photo/China Daily]
On the morning of Nov 6, four vans owned by the Shenzhen Vpower Finance Security Co waited outside the vault of the People's Bank of China's sub-central branch in Shenzhen, in southern China's Guangdong province. The vans, made from reinforced metal and modified to carry cash and gold, were waiting to carry 280 million yuan ($44 million) in 100 yuan bills to the PBOC's storage facility in Hong Kong.
Small forklift trucks took less than 10 minutes to transfer the notes to the waiting vans. The bills are never seen during the storage and transportation process, but are kept in sealed red boxes, the same color as the notes, to avoid putting temptation in anyone's way. To the workers, the boxes don't contain money, just "special pro-ducts" produced and distributed by the central bank.
The workers checked the boxes and then loaded them into the vans; it was tiring work because each box weighed 26 kg.
The vans, protected by armed officers, then headed straight to the Huanggang land port about 30 km from Hong Kong, and were replaced by another fleet of vehicles which drew up and formed a line. They had been sent by commercial banks to withdraw money for their daily operations.
In 2007, the PBOC's first offshore yuan cash storage facility, managed by Bank of China, was established in Hong Kong. Vpower first carried cash from Shenzhen to Hong Kong on July 21, 2009, and by the end of that year had transported 1 billion yuan. The volume grew rapidly, and during the first 10 months of this year, 48 billion yuan had been sent to Hong Kong, according to Wang Wei, Vpower's manager.
Trading places
Last week, while Shenzhen basked in temperatures of about 29 C, residents of Erenhot, a city on the China-Mongolia border, shivered as the mercury plummeted to-7 C.
Erenhot is just 9 km from Zamyn-Uud, the nearest large settlement the other side of the border. Merchants in battered cars bearing Mongolian license plates could be seen everywhere, searching for tradable goods ranging from daily necessities to heavy machinery.
As the yuan has become more popular, and therefore stronger, in Mongolia, demand for the currency has also risen strongly, and since last year more than 150,000 UnionPay (yuan-denominated) bankcards have been issued in the country, according to Xiao Wenhui, director of the PBOC's branch in Erenhot.
Employees of the State Bank of Mongolia counted 20 million yuan in cash before the money was placed in two SUVs with Mongolian license plates and taken to a rail station across the border, where it was put on a train to Ulaanbaatar, the Mongolian capital.
Six commercial banks in Mongolia regularly transport large amounts of cash from Erenhot, although some also have cash flown in from the PBOC's storage facility in Hong Kong, Xiao said.
Qiqige, a Mongolian businesswoman, was waiting at the Erenhot branch of the Agricultural Bank of China to wire funds to her business partner in China. She also wanted to send money to Mongolia to purchase lamb's wool, which she transports to China for processing.
"I collect wool from the herdsmen in Mongolia. They only want cash in the Chinese currency, which is accepted almost everywhere," said the 61-year-old who has been running her business since 1994.
Before she opened a yuan account with the bank two years ago, Qiqige had to carry a large amount of cash every time she entered or exited China on business, which was unsafe and inconvenient. "Now I can withdraw yuan back at home whenever I need."