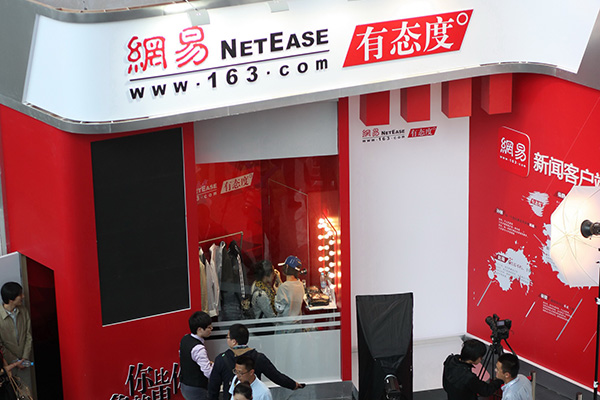 The NetEase Inc booth at an international Internet conference in Beijing. The company's revenue surged to 6.67 billion yuan ($1.05 billion) in the three months to September. [Photo provided to China Daily]

Mobile gaming driving growth for Guangzhou firm
NetEase Inc, one of China's leading Internet and online gaming services providers, has posted record net profit for the third quarter, and a more than doubling in revenue, driven by its mobile gaming business.
Revenue surged to 6.67 billion yuan ($1.05 billion) in the three months to September, the company said on Thursday, beating average market estimates of 5.6 billion yuan, compiled by Yahoo Finance.
NetEase made a 1.88 billion yuan profit during the quarter, a 62 percent increase on the previous year. But due to rising operating costs, its gross margin narrowed from 72.5 percent in 2014 to 58 percent.
"Our self-developed and licensed personal computer games maintain a healthy appeal to users, while mobile games are driving new growth," said Ding Lei, its chief executive officer.
The Guangzhou-headquartered company generated nearly 80 percent of its revenue from online gaming, 53 percent of which came from mobile games
NetEase operates Activision Blizzard Inc's gaming platform battle.net and other franchises in China.
Earlier this year, it launched its own self-developed mobile games Westward Journey Online and Fantasy Westward Journey, which quickly became the top two grossing games in the iOS China app store.
"The popularity of smartphones has stoked Chinese users' appetite for mobile games," Ding said.
"It makes games accessible anytime, which helps lure in new users who have never played PC games before."
The company also revealed on Thursday it is investing $25 million in the Finland-based gaming startup, Reforged Studios. The Helsinki developer is scheduled to launch its first mobile game next year.
To diversify its revenue portfolio, NetEase has been expanding its operations into more smartphone-enabled businesses and e-commerce markets.
It has already launched an online payment platform, for instance, and a cross-border e-commerce platform, kaola.com.
NetEase's robust growth in mobile gaming comes as a growing number of Chinese consumers turn to their smartphones for entertainment.
Analysys International, the Beijing-based Internet consultancy, has forecast the country's mobile gaming market will be worth 41 billion yuan this year, and 66 billion yuan by the end of 2017.
Chen Xu, a games analyst with the company, said: "More users are becoming hardcore players of mobile games. They are willing to spend money on games, which in turn will continue to boost developers' profits."
NetEase is considered China's second-largest mobile gaming company, after Tencent Holdings Ltd, whose mobile gaming revenue hit 5.3 billion yuan in the third quarter.
But Chen said: "NetEase is catching up with Tencent. It boasts multiple intellectual property rights, from which a wealth of mobile games can be developed."