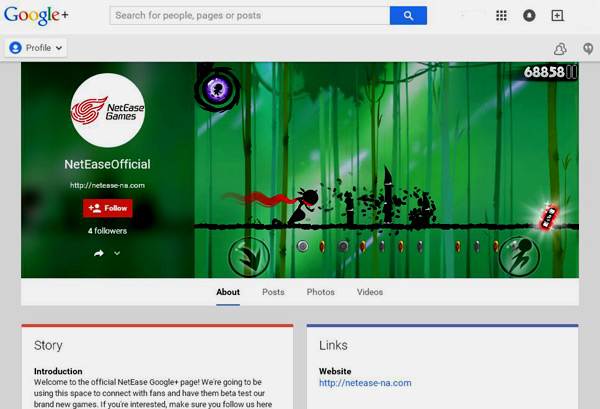 Screenshot shows the newly launched official page of NetEase on Google Plus.[photo/chinadaily.com.cn]  
Chinese internet and video gaming giant NetEase has announced the establishment of a subsidiary office in Redwood Shores, California on Tuesday.
According to NetEase, the new offices will be led by games industry veteran David Ting. The company is invested in building content for Western audiences on mobile platforms and promote the NetEase brand in overseas markets.
Ting was previously Chief Technology Officer at OUYA, an Android based video gaming console, and head of online publishing at Blizzard Entertainment. He also served as the General Manager of IGN eSports.
"With a $15 billion market cap, NetEase has a strong foundation of successes in Asian markets made possible by a wealth of design and engineering talent. We're diligently working to bring culturalized versions of these high quality experiences to gamers all over the world," said David Ting, General Manager of NetEase North America.
"We've assembled a group of talented professionals whose passion is making games and our focus is on fostering an environment with creative freedom. We are building the games we want to play and are excited to launch them into global markets," Ting added.
One of the games NetEase plans to bring to Western mobile gamers is Speedy Ninja, an endless runner produced by the company. The game is expected to launch this summer.
According to San Francisco-based investment firm Digi-Capital Ltd, mobile gaming was the only segment of the gaming market to experience double-digit growth around the world in 2014.
NetEase is a major publisher of online and mobile video games in China as well as the operator for Blizzard's World of Warcraft.
Screenshot shows a new logo posted on the official Facebook account of NetEase. [photo/chinadaily.com.cn]