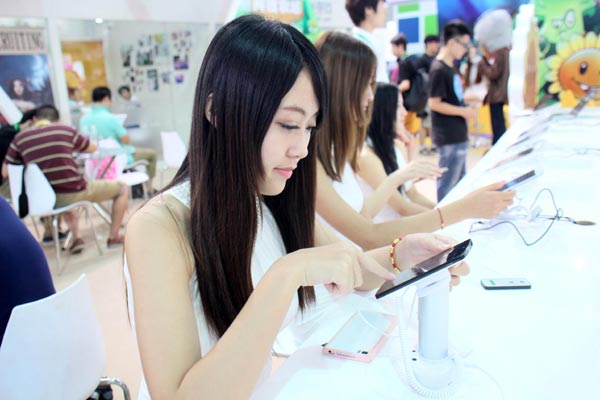 Visitors try out mobile games during the 12th China Digital Entertainment Expo, which is also known as ChinaJoy 2014, in Shanghai, last August. [Photo/China Daily]
The expansion of fourth-generation services and the proliferation of smartphones attracted more Chinese consumers to mobile games in 2014, the China Internet Network Information Center said.
A study by the center showed that China had 248 million mobile online game players as of Dec 31, surging 32.9 million year-on-year. The number of people accessing the Internet from mobile devices totaled 557 million as of the same date, up 56.7 million from a year earlier and accounting for 85.8 percent of the nation's online population.
According to San Francisco-based investment firm Digi-Capital Ltd, mobile gaming was the only segment of the gaming market to experience double-digit growth in 2014 around the world.
Asia was the top market for games, driven by rapid growth in China, Japan and South Korea. Asian games market consultancy Niko Partners said that the Chinese mobile games market had experienced "explosive growth" in 2014 with expansion of 93 percent and total revenue of $2.9 billion. The consultancy forecast that China is very likely to overtake the United States in revenue in 2015.
"The Chinese mobile games market underwent further consolidation last year (involving) all sectors from products to talent, operations and channels ... 2015 will see the market become more regulated and mature," said Zhang Yanan, manager of the vertical industry research and consulting department of research firm IDC China.
"It can be expected that the growth rate of personal computer games will stabilize in 2015 and that of mobile games will slow. Internet companies that used to view games as their core profit business will explore new paths for growth.
"In this light, acquiring intellectual property through cooperation at various platforms as well as the use of capital will become the core strategy of most Internet companies in the coming months," she said.
Chen Jie, senior vice-president of Qihoo 360 Technology Co Ltd, agreed that creating a first-rate intellectual property environment will be the focus of most Chinese game developers in 2015. He said that the entire mobile games industry has shifted focus from quantity to quality.
"China has a large number of casual gamers, which is about 10 times higher than in most other markets. However, the average revenue per user is quite limited, especially when compared with Japan and South Korea. The Chinese gaming industry needs to increase this level substantially," he said.