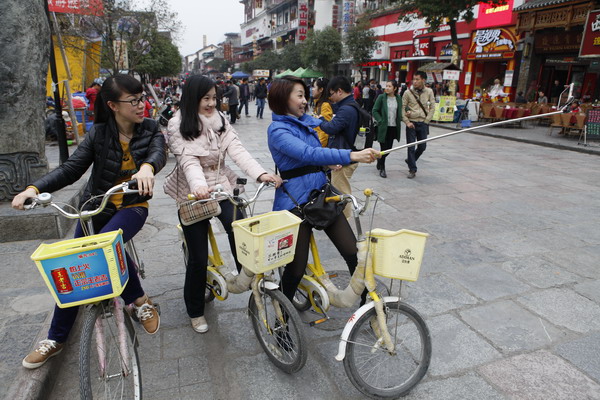 Three young women take photos with a selfie stick on a street in Yangshuo, a well-known tourist resort in Guilin, Guangxi Zhuang autonomous region in Southwest China. Selfie sticks, also known as Shen'gun, are as popular in China as any other smartphone market. Photo by Huo Yan / China Daily
Want the perfect selfie? Get a monopod with a long arm and go click, click, click to your heart's content, writes Gao Yuan
From nowhere the selfie stick is everywhere.
The monopod used to take selfies by positioning a smartphone or camera beyond the arm's length was a hit from the Eiffel Tower to the Times Square during the last holiday season.
In China, people have given it a special name - Shen'gun, or holy wand - because it usually produces unexpected results. Needless to say, Shen'gun is as popular in China as any other smartphone market. An online shopping index of taobao.com, the largest customer-to-customer retail site in China, shows the search for "selfie stick" was more than double that for the "iPhone" in early December.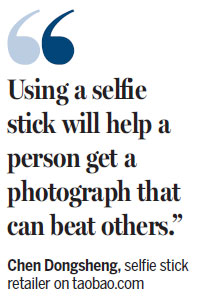 Despite being modest, Chinese people love to take selfies. The fast-improving quality of lens and photographs on smartphones had already made people somewhat narcissistic; now the selfie stick is raising the self-craze to a higher level.
So, welcome to the era of selfie 2.0.
Humans have been inventing tools to overcome natural defects. Selfie sticks were created because humans do not have arms as long as a sloth's or orangutan's (in relative terms). Even without the selfie stick, celebrities were driving the selfie crowd crazy with their antics. For example, at last year's Oscar ceremony, hostess Ellen DeGeneres invited a number of Hollywood stars to take what turned out to be one of the most famous selfies with Bradley Cooper holding the camera.
"If only Bradley's arm was longer. Best photo ever. #oscars," DeGeneres tweeted under the shot that put Meryl Streep, Brad Pitt, Jennifer Lawrence, Julia Roberts and half of Angelina Jolie's face in the frame. Within an hour, it became the most popular tweet ever, with more than 870,000 re-tweets and 210,000 favorites. Had Cooper used a selfie stick to include Jolie's full face, DeGeneres could have put more hashtags in the tweet.
The selfie-stick craze probably originated in South Korea last year and quickly spread to neighboring countries such as China and Japan, and Southeast Asian countries, where teenagers are obsessed with social networking, cyber slangs, emojis - animated emoticons, and of course, taking selfies. Figures from taobao.com show that females have bought about 61 percent of the selfie sticks sold since September, and people below 30 years of age placed more than 65 percent of the orders.