Are you still asking yourself: "Should I join the selfie stick gang?" Here are some suggestions that will help you decide.
Selfie sticks can be used for purposes other than taking selfies. The stick gives users a bird's eye view so to speak, and can be used to take panoramic shots. The position of the camera plays a key role in photography, and the selfie stick can help you place the camera at distances your arms cannot reach.
Remember, some sticks can hold smartphones as well as professional cameras. It is basically a monopod that people can improvise for use, and the extendable wand is easy to carry and, hence, handy for travelers.
But be careful, South Korea and some other countries and regions are mulling a ban on wireless-capable selfie sticks because they fear it could interfere with critical communications equipment.
Also, despite sounding absurd that a selfie stick's built-in Bluetooth can damage an equipment, we do not recommend you buy sticks that use Bluetooth to connect to smartphones. If you put on a wearable device, the Bluetooth on the stick could interrupt communication between the phone and the device. Thus, it would be a wise decision to avoid using such equipment with wearables.
Moreover, you need to insert a battery in the handle for Bluetooth-enabled selfie sticks, which could compromise its water-resistant feature.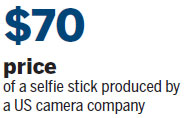 But for extreme sports fans, a selfie stick and a GoPro camera are a perfect match. The American camera maker has its own stick but it comes for a significantly higher price - $70. The results, however, could be stunning. Imagine going skiing or skydiving with a GoPro attached to your body and recording a high-definition video of the entire process. It can be an instant hit on YouTube.
The problem is, for most users, spending more than 300 yuan on a smartphone accessory may not be worth it. A selfie stick that costs about 100 yuan ($16) is preferable, in particular, because retail websites such as taobao.com and jd.com are offering thousands of options within the price range.
We do not recommend you buy super cheap knockoffs either, especially if you have to attach a brand new iPhone 6 Plus to the stick. Quality in such cases is worth more than 5,000 yuan.
The selfie stick is an interesting addition to your smartphone accessory bag. It is not a must have for those not obsessed with selfies, but it can add a different dimension to clicking photographs - especially during the holiday season.
Nevertheless, there is no reason for everyone to buy a selfie stick, for it can always be borrowed from a friend who does not intend to use it, at least, temporarily.