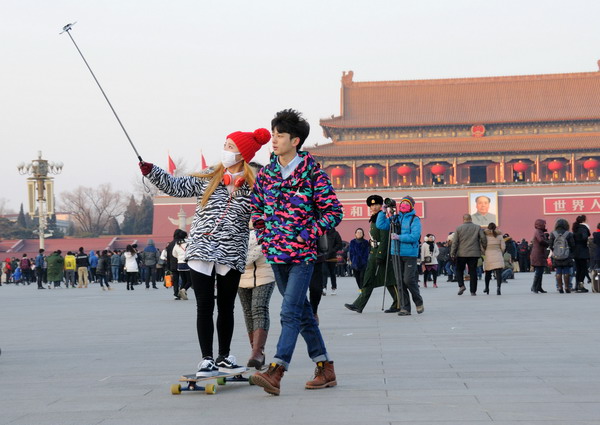 A couple take a photo with a selfie stick at the Tian'anmen Square in Beijing. Provided to China Daily
Word of caution
But Chinese tourists should pay extra attention to local rules when using selfie sticks abroad. A number of museums in the United States have banned visitors from using selfie sticks fearing the long and sometimes clumsy wands could damage the valuable objects on display. The Museum of Modern Art and Cooper-Hewitt Design Museum in New York do not allow visitors to even carry selfie sticks inside their buildings.
Tens of thousands of tourists from China visited New York during this Chinese Lunar New Year, which fell on Feb 19, and some definitely carried selfie sticks with them. The United States issued 351,650 business and tourist visas to Chinese nationals from December to January, a year-on-year increase of 68.2 percent, which makes it all the more important for Chinese to be wary of local rules while visiting US tourist sites.
An extra-hand
Selfie sticks can be used for other purposes too. Last month, a woman reporter with Hong Kong-based Phoenix TV was spotted doing a live coverage using a smartphone attached to a selfie stick.
Liu Jianhong, sports commentator with LeTV.com, says the selfie stick and 4G-compatible smartphone are becoming necessary tools in a reporter's kit. "In the past, live broadcasts meant satellite trucks and several on-field staff. But smartphones have made it possible for a reporter to carry out an assignment alone," Liu says.
During a recent online live photograph and text report on a Xiaomi Corp product release event, China Daily, too, used a selfie stick to capture a better-angle photograph of Xiaomi co-founder Lei Jun standing almost 20 meters away.
The newest addition to our reporting team has helped on-site reporters to take a number of panoramic photographs of several thousand people. It has indeed made our job easier because all we have to do is to attach a smartphone to a selfie stick, keep calm and click.