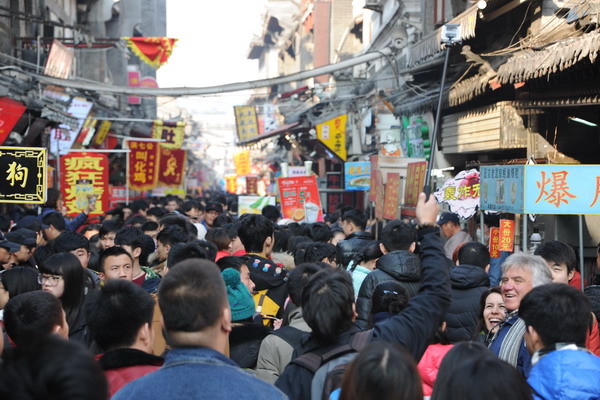 A young man takes a photo with a one-meter-long selfie stick attracting the attention of visitors the Furong Street, a tourist site in Jinan, capital of Shandong province. Photo by Chen Ning / For China Daily
A must have
Most of the selfie sticks sold in the market can be extended to 1.5 meters, far enough to click a "nice group selfie" at events like the Oscars. An embedded Bluetooth module on the stick controls the camera in the smartphone, making it easier to click photographs.
Lily Fang caries a selfie stick every time she goes to meet friends or attend parties, or takes a weekend break. "I love to share photographs online via social platforms ... the selfie stick always gives me the right perspective, something which was not possible before," says the 25-year-old who works for a bank in Xiamen, Fujian province.
The magic code for a perfect selfie, Fang says, is to keep the camera at a level higher than the head and to the side. Only this way can the camera capture bigger eyes and a thinner chin - both beauty standards for young women in Asia. "Many Asian women have a round face ... and try their best to hide the 'baby face' in selfies to prevent people from thinking they are overweight," Fang says. This is precisely where selfie sticks help. And they are affordable too, priced below 100 yuan ($16) each.
Chen Dongsheng, a selfie stick retailer on taobao.com, says he sold more than 3,000 pieces last year. "The orders started to jump after October ... on one day I once sold about 500 pieces," Chen says. Most of the buyers are young women and people who love to travel. "I think the tourism industry helped my business. Who does not want to take the best photograph at a popular destination? Using a selfie stick will help a person get a photograph that can beat others."