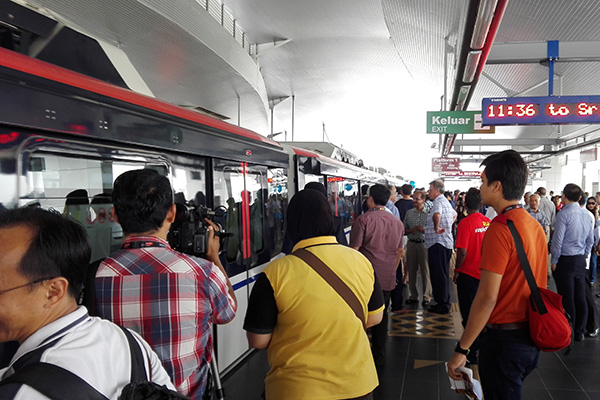 Passengers wait to board the train at Chan Sow Lin Station, a transit platform which is part of the Rapid KL Ampang Line in Malaysia. Trains used on the line were built by CRRC Zhuzhou Electric Locomotive Co Ltd. [Photo provided to China Daily]
CRRC ZELC is expanding in Southeast Asia after setting up a manufacturing hub in Malaysia
A major Chinese railway company is on track with its expansion plans in Southeast Asia after setting up a manufacturing and maintenance center in Malaysia.
CRRC Zhuzhou Electric Locomotive Co, which is part of the country's largest train manufacturer China Railway Rolling Stock Corp, has been in the export business for 18 years.
In July, CRRC ZELC opened a $131 million plant in Mal-aysia's Perak state, which is managed by CRRC (Malaysia) Railway Vehicles Co and will act as the company's gateway to the rest of the ASEAN region.
Two years earlier, the firm had secured orders to build 10 high-speed electric trains and 20 light railway engines, or LRVs, in the country.
"Because most Southeast Asian nations have just begun to build new railway lines or bought new trains, they are keen to acquire technological support from China to assist in the daily operations, maintenance, staff training and other services," Zhou Qinghe, president of CRRC ZELC, said.
The ASEAN plant will be involved in production, assembly, testing, maintenance and refurbishment, with an annual production capacity of 100 electric trains and LRVs.
Up to 800 jobs will be created at the facility and annual sales revenue is estimated to be 590 million yuan ($93 million).
But then this is just the latest move in CRRC ZELC's Southeast Asia journey in Malaysia, which started in 2010. So far, the company has supplied 38 electric trains to Kuala Lumpur, the country's capital.
"We went through a long process of getting to know each other," Zhou said. "At the end of 2009, Malaysian officials visited CRRC ZELC and saw the company had strong research and development services.
"After that, Malaysia's Ministry of Transportation awarded an inter-city trains contract worth nearly 4 billion yuan in 2010. All the hard work had finally paid off," Zhou added.
During the past five years, CRRC ZELC has put together deals worth 8 billion yuan for rail equipment and service projects in Malaysia.
Part of this involves supplying engines for the new 200-kilometer high-speed rail link between Kuala Lumpur and the northern city of Ipoh.
The contracts were signed in December and the line will run some of the world's fastest bullet trains in the world.