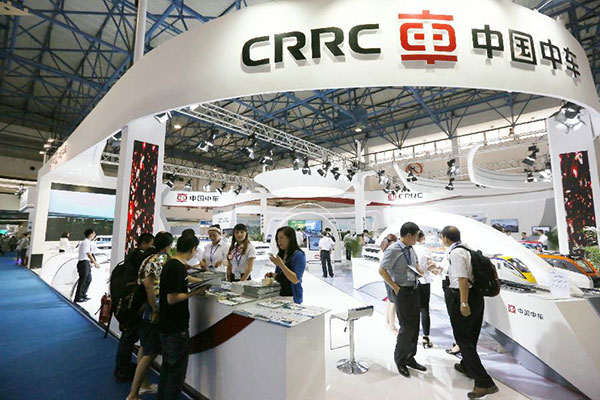 People visit the exhibition stand of CRRC Corp, a new conglomerate formed by the merger of China's top two high-speed rail makers, China North Railway (CNR) and China South Railway (CSR), at the UrTran 2015 International Urban Rail Exhibition in Beijing, capital of China, June 16, 2015.[Photo/Xinhua]
A subsidiary of the world's largest railcar maker in China just broke ground on a new $95 million manufacturing facility in Springfield, Massachusetts.
"There are many firsts here in Massachusetts," said Yu Weiping, vice-president of CRRC Corporation, at the groundbreaking ceremony on Thursday. "One is being home to America's first subway, and now this is a first for us in the US."
Yu was joined by Massachusetts Governor Charlie Baker, Springfield Mayor Domenic Sarno and Liu Yi, commercial counselor from the Chinese Consulate General in New York.
"The Springfield train factory is the first-ever Chinese investment in the high-end railway transportation equipment industry in the US," said Liu. "After years of development, the Chinese railway equipment industry has become highly competitive internationally."
CRRC has been awarded a contract from the Massachusetts Bay Transportation Authority to design and manufacture 284 new Orange and Red Line subway cars for Boston's transit system.
The 220,000-square-foot assembly facility will begin construction in 2016 with completion scheduled for fall 2017, and the first cars are expected to be delivered in 2018.
Many of the Red and Orange line railcars are "old, slow, dirty, squeaky, and the paint is peeling off their rusty bodies," said Jin Xi, 22, a recent graduate of Boston University. "The Boston subway system is nice, but the cars are aging. In Beijing subways, the lighting is very bright, and the plastic chairs are shinny."
During the brutal snow storms of last winter, Governor Baker said he was told by Transportation Secretary Stephanie Pollack that a lot of the Red Line trains were the same cars that were running during the blizzard of 1978.
"The same cars," Baker repeated. "That was a really long time ago, folks."
The Red Line cars are on average 44 years old, and many Orange Line cars have been riding the rails for 32 years.