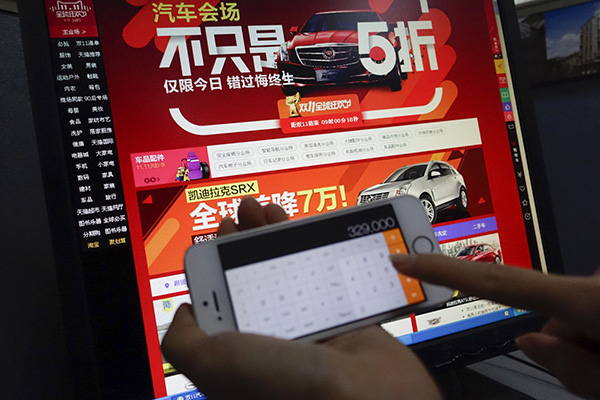 During the Singles Day promotional event, Tmall.com offered 50-percent discounts on many auto models. [Photos Provided To China Daily]
Alibaba's online shopping platform set a world record for vehicle sales during its Singles Day event on Nov 11.
For selling 6,506 vehicles in a single day, Guinness World Records named Alibaba's Tmall.com retail site the "Platform with the Most Cars Sold in 24 Hours".
China's e-commerce giant said shoppers across the country spent nearly $8 billion in the first 10 hours of the Singles Day event on Wednesday.
Alibaba's automotive division received more than 500,000 orders from Oct 13 to Nov 10, 10 times the total amount of orders (50,700) from Oct 15 to Nov 11, 2014. Transactions surged 147.4 percent from the previous year, the company said.
"The highlight was the buy-it-now special offer that offered cars at half price to all consumers," said Wang Licheng, general manager of Alibaba Automotive. Automakers and dealers combined to launch steep discounts for approximately 30,000 units of about 50 models of vehicles, including 50-percent discounts on GM's Cadillac, SAIC Motor's Roewe and the Skoda.
The Tmall online shop for SAIC General Motor's Buick saw sales of more than 150 million yuan ($23.5 million), more than 100 million yuan of which went to purchases of 2,305 units of the Buick Excelle. The automaker's online shop for the Cadillac saw more than 100 million yuan in transactions within 30 seconds.
"We have been working with Alibaba continuously for years and we have launched products and service offers every November. It's an opportunity for business development and sales channel expansion," said Liu Weiyi, public relations manager at SAIC General Motor.
Audi said it had 29 million yuan in Tmall transactions, which it claimed would have garnered the company third place in the Guinness World Record. The shop had 196 orders of the A3 1.4T manual special edition paid in full.
BMW's shop on Tmall provided a coupon of "1 yuan for every 300 yuan spent" for auto services and accessories at its 4S dealerships. All coupons were sold in 10 seconds, the company said.
Zhang Ya'nan, an analyst from IDC Market Research, said presale orders increased significantly in many categories for the Singles Day shopping spree, including automotive products, because of Alibaba's massive data system.
Jia Xinguang, senior analyst with the China Automobile Dealers Association, said in an interview earlier this month that traditional offline 4S dealerships make these online achievements happen.
Despite the massive amount of orders placed through online shopping malls, those who receive the orders are traditional dealers. Moreover, customers still have to visit the brick-and-mortar shop to receive their car.
Liu agreed.
"A car product is not similar to an electronic product. A car has its special attributes to be experienced. A customer needs to visit the dealership in person to feel and check the car he or she is going to buy. The deliveries, at the end, are made offline by dealers. The online-to-offline car deals ultimately are still directed to our dealers," Liu said.
"The most attractive offer was the one-yuan Cadillac. The special offers made on Tmall were kind of an advertisement. Both SAIC GM and dealers participated in the promotion and the automaker bears the promotional costs for the one-yuan and half-priced cars."
Alibaba said a total of more than 900 metric tons of lubricant oil, 580,000 driving video recorders, 160,000 safety seats and 20,000 tires were sold during the promotional event.