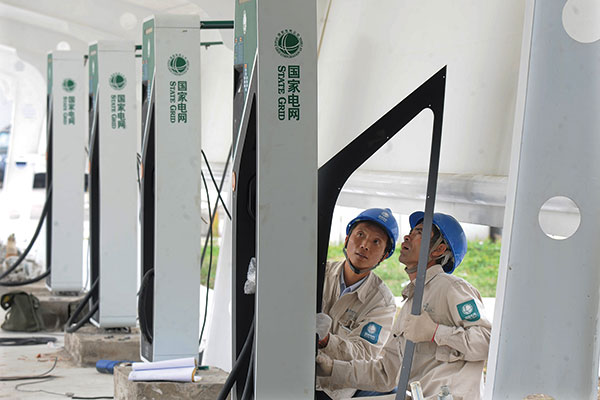 Engineers for the State Grid Corp of China install vehicle charging facilities in Yangzhou, Jiangsu province. The central government has vowed to provide sufficient charging infrastructure for new-energy vehicles. [Photo/Xinhua]
Chinese firms provide assist with charging innovations
Auto industry experts expect sales of new-energy vehicles, which have been rising as of late, will surge after China prioritized promoting the industry in its next five-year plan.
The Central Committee of the Communist Party of China approved a document that emphasizes boosting technological innovations in the manufacturing of new-energy vehicles and promoting the use of electric cars, plug-in hybrids and fuel cell vehicles and which will be drafted into China's 13th Five-Year Plan (2016-2020).
Consulting firm PwC estimates the sales of new-energy vehicles in China will rocket to 1.4 million units by 2020, about 20 times the total number of sales in 2014, and about 3.75 million units by 2025.
Statistics from the China Association of Automobile Manufacturers show that less than 140,000 units were sold in the first nine months of this year.
"The Chinese market has been growing significantly since 2014. We predict that the next five to 10 years will be an important phase for the industry," said Jin Jun, a PwC China advisory partner.
He said one important driving force behind the industry's momentum is the government's favorable policies.
In late September, the State Council gave orders that local governments shall not restrict the sales or use of new-energy autos.
That same month, it issued a document that aims to improve battery charging networks and infrastructure. Inadequate charging stations have been seen as a major hurdle to the sales of new-energy vehicles in China.
According to the State Council document, China will finish building a charging network that can meet the demands of 5 million electric cars and plug-in hybrids by the end of 2020.
The document also stipulates that all parking lots at newly built apartments must offer charging facilities or ensure that such facilities can be installed later. Additionally, 10 percent of public parking lots must be able to install charging facilities.