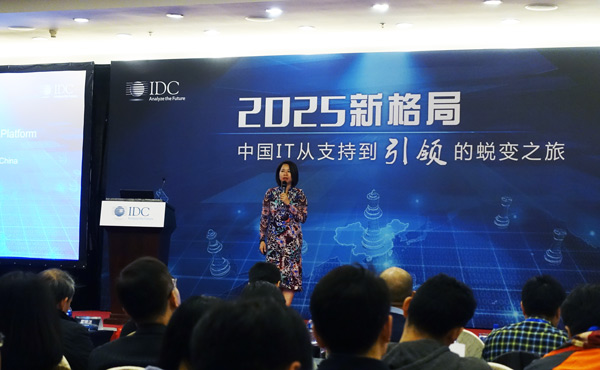 Kitty Fok, Managing Director of IDC China, delivers keynote speech on November 12, 2015 during the company's press meeting. [Liu Zheng/chinadaily.com.cn]
With an approximately annual growth rate of 7 percent, the 10-year aggregate of China's information, communication and technology (ICT) market will reach $6 trillion by 2025, which will provide big opportunities for investors and enterprises, said market research firm IDC.
According to IDC's prediction unveiled on Thursday in Beijing, China will become the world leader by 2025 in an array of areas, including economic aggregate, manufacturing added value, scale of online shopping and scale of the middle-class.
"With the application of the 3rd Platform, such as cloud, big data and mobility and the six key technologies known as innovation accelerators (3D printing, robotics, cognitive systems, Internet of Things, augmented/virtual reality, and next-generation Security, the world will enter a super digital era and digital transformation will become a core trend in all businesses in the next decade," said Kitty Fok, IDC China's Managing Director.
IDC said that with the release of the Proposal on Formulating the 13th Five-Year Plan in November by the government, innovation, coordination, green development, open-up, and sharing will become the main themes of China's economic development.
With the ICT market of China poised to embrace four new landscapes by 2025 -- the new economic pattern, new technological pattern, new user pattern, and new ecological pattern, the industry will embark on a transformational journey from a supporting to a leading role in businesses.
Under the new technological landscapes, IoT and intelligent hardware will become ubiquitous, while secure cloud services become an essential part of infrastructure just as water and electricity are currently, and big data assets will drive innovations in artificial intelligence and user experience.
According to IDC, by 2025, over 80 percent of organizations in China will have become technological organizations, and each Chinese consumer will have five digital smart devices on average.
The post 90's and 20's generations will become the core users and consumers of ICT products and services.
"The future decade will be: on one hand, a decade of restructuring, transformation, and, innovation and upgrade for the Chinese economy and, on the other hand, also a decade of innovation and upgrade for ICT's technology and business models," said Wu Lianfeng, IDC China's vice-president and chief analyst.
"By consolidating technical strength and resource integrating capabilities, ICT manufacturers and users will realize all-round transformation in the super digital era, and seize the upcoming opportunities."