With the theme "Accelerating Innovation and Digital Transformation", analysts from market intelligence firm International Data Corporation (IDC) shared their opinions on the business opportunities in domestic Information Communication Technology (ICT) field on Wednesday, at IDC China's 2015 Directions forum held in Beijing.
"China expects to be on the forefront of technological innovation in so many fields. Those vendors daring to meet the rapidly evolving demands of the Chinese market will have huge opportunities," said Kitty Fok, managing director of IDC China, during the opening keynote speech.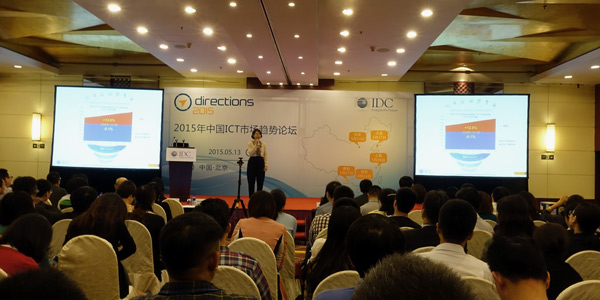 Kitty Fok, managing director of IDC China, delivers keynote speech on May 13, 2015 at a IDC China's 2015 Directions forum held in Beijing. [Liu Zheng/chinadaily.com.cn]
According to Fok, innovation and transformation are critical to the performance of both ICT vendors and industry users.
On one hand, with economic growth lacking momentum, the real economy reeling, traditional industries undergoing disruption and reconstruction, IT market growth remaining in the single-digit range, and leaders of the so-called "second platform", which are based on client-server model and the PC generation of systems and software, are continuing to struggle.
In the meantime, China's economic structure is upgrading, reforms are picking up speed, emerging industries are rising, third-platform market is maintaining high growth, and new vendors are emerging on the scene.
The "third platform", which includes cloud computing, big data and analytics, social business and mobility, has already been widely applied in various industries.
According to IDC's research, 64 percent of enterprises worldwide are exploring and implementing digital transformation. Customer experience, flexible and efficient business processes and innovative business models have become the core of the new digital transformation strategy.
The goals, tasks and policies formulated by the government in 2015 will have a huge impact on the Chinese economy and serve as a good barometer for China's IT market.
According to IDC's analysis, six macro trends that include infrastructure projects, the Belt and RoadInitiative, Made in China 2025, Internet Plus, Smart City and Security and Controllability, will be the cornerstone of digital transformation opportunities, and six technologies that contain robotics, natural interface, 3D printing, Internet of things (IoT), cognitive systems and next-generation security technology based on the third platform will accelerate business innovation.
IDC forecasts that by 2020 the third platform will become the mainstream of the ICT market, with its share in the business IT market increasing from 49.2 percent in 2015 to 71.3 percent in 2020.
Growth of the third platform will be nearly five times that of the average growth of the ICT market. Six technologies based on the third platform will accelerate global business innovation.
IDC predicts that China's GDP will have a compound annual growth rate (CAGR) of about 6.5 percent from 2015 to 2020 and reach $17.5 trillion in 2020, accounting for 17 percent of the global GDP, near the level of the GDP of Western Europe, and ranking second in the world.
IDC also forecasts that China's ICT market will continue to grow steadily. The market and the telecommunications service market will both reach $300 billion in 2020, representing a CAGR of 7 percent from 2013 to 2020, with the accumulative value of the ICT market from 2013 to 2020 reaching $3.8 trillion.
According to Wu Lianfeng, associate vice president of IDC China, "For business, the key to reshaping the corporate culture toward innovation and making concrete plans in terms of market entry timing, core strength building, and formulation of new strategies of competition and cooperation, and this will allow businesses to capture the real opportunities in the age of digital transformation."
IDC is the premier global provider of market intelligence, advisory services, and events for the information technology, telecommunications and consumer technology markets.