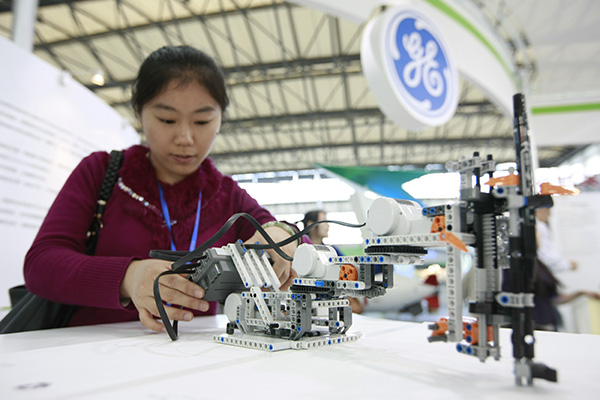 A woman inspects a robot designed by General Electric during a recent industrial fair in Shanghai. Despite the slowdown in China's economic growth, the US company is confident that the Chinese market will continue to expand. [Photo provided to China Daily]
A slowdown in China is forcing multinational companies to treat the world's second-largest economy more like a developed market.
This has involved turning away from the headlong dash for growth to focus on premium businesses as well as improving productivity by investing in staff.
As the main driver of global growth for much of the past decade, China has been a godsend to big international firms looking to boost profits as economies elsewhere struggled.
Now, though, Beijing is attempting to rebalance its economy to a more sustainable rate of expansion dubbed the "new normal" by President Xi Jinping.
But with growth at its slowest in a generation, a slew of companies are citing China as a reason for underwhelming earnings in the past six months.
"We've entered the new phase, a new normal with slower growth, and that changes the business dynamic, and it changes the outlook," John Lawler, Ford China CEO, said at a conference for United States businesses in Shanghai.
In recent weeks, weakness in Chinese demand has been blamed for soft sales and trimmed forecasts from companies ranging from luxury fashion retailer Burberry and KFC owner Yum Brands to US computer hardware and consulting firm IBM to Japanese robot maker Yaskawa Electric Corp.
Last month, economic data also showed export growth dipping in Japan and South Korean-both blamed on the slowdown in their giant neighbor.
Companies in sectors such as construction and mining have felt the biggest pinch.
Heavy equipment maker Caterpillar plans to slash capital spending and cut about 10,000 jobs, while industrial conglomerate United Technologies Corp said its business in China could drop as much as 15 percent next year.
And the days of double-digit growth that had foreign companies scrambling to enter the country in the first decade of the millennium may not be coming back.
President Xi said early this month growth would remain around the 7 percent level for the next five years.
As Beijing tries to steer the economy away from the export and investment-led growth model that fueled China's rise, firms are having to re-evaluate their strategy.
"Generally, it has probably moved from 'go, go, go, growth, growth, growth,' to 'things are getting complicated'," Abinta Malik, general manger for Gap Inc in Greater China, said when asked at the Shanghai conference how the message from head office had changed.