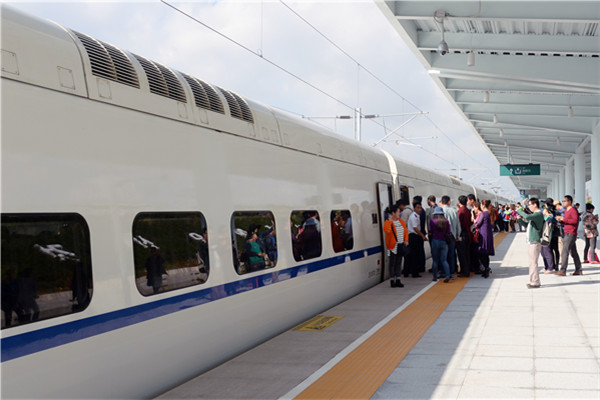 Passengers get on the train for Hunchun, Jilin province. [Photo/Xinhua]
Foreign enterprises are expected to seize development opportunities during China's 13th Five-Year Plan period, a formal official said on Tuesday.
"The Chinese economy has entered a 'new normal' status and the growth of economy is predicted to be maintained at a medium and high speed; even so, foreign enterprises can still make a difference," said Liu Shijin, former vice-chairmen of Development Research Center of the State Council at a briefing introducing the CPC Central Committee's suggestions on the 13th Five-Year Plan.
Liu said the major goals and basic ideas for economic and social development during the 13th Five-Year Plan period based on the suggestions, emphasizing the development concepts of "innovation, coordination, green, openness and sharing" must be firmly established to fulfill the goal.
The suggestions, adopted at the Fifth Plenary Session of the 18th CPC Central Committee which ended on Oct 29, sets guidelines and targets for the next five years.
"Our target is to build a well-off society in an all-round way by 2020. The GDP growth should be no less than 6.5 percent," Liu said.
China's development is in an important period of strategic opportunities in which great things can still be done, and foreign enterprises should make use of the huge opportunities that the plan brings to deepen the economic and trade cooperation with China, Liu added.
The briefing was held by the International Department of the Central Committee of CPC. About 150 representatives from more than 100 multinational enterprises attended.
In the briefing, Liu elaborated the fact that the suggestions require China to adhere to the path of innovative development and strive to enhance the quality and effectiveness of development.
Representatives from foreign enterprises expressed they learn more about the 13th Five-Year Plan after the briefing and have more confidence about the development prospect of Chinese economy.
Zhu Ming, vice-president of planning and business development department of Japan-headquartered Mitsubishi Corporation China Commerce Co, said "the just ended Fifth Plenary Session of the 18th CPC Central Committee dispelled the doubt over China's economic growth and send out the information that economic and social development in China is robust".
Zhu is also interested in how to push forward comprehensively deepened reform and the way that foreign investment policies will be adjusted during 13th Five-Year Plan period.