Editor's note: The Fifth Plenum, a key meeting of the Communist Party of China, was held last month. At the meeting, top Chinese leaders reviewed and deliberated on the draft of the 13th Five-Year Plan (2016-20), which will lay out the blueprint of the country's social and economic development over the next five years. The plan highlights innovation, green growth and reform of State-owned enterprises as some of the country's development priorities. China Daily invited a group of chief executives from leading multinational companies to provide their insights into the plan.
Q1: Innovation was one of the key areas emphasized by China's leaders at the Fifth Plenum. Why is this crucial for the country's growth prospects and how will it affect the overall economy? How will this affect your development plan in China?
Q2: Green growth was another vital theme highlighted at the Fifth Plenum. How will tackling pollution and raising environmental standards affect China's future development and shape your business strategies in China?
Q3: China is targeting "medium-to-high economic growth" in the coming five years and aims to double its 2010 GDP and per capita income by 2020. Premier Li Keqiang has pledged to maintain GDP growth rate of at least 6.5 percent through to 2020. Is this realistic? If not, what would be your figure?
Q4: How can China achieve its goal of pursuing sustainable growth during the next five years?
Q5: China's leaders will continue economic reform by opening up markets. Will reduced restrictions help foreign companies play a greater role in boosting China's economic growth? And what sort of reforms would you like to see in this area?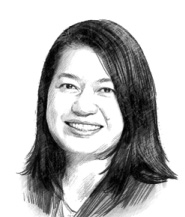 Celina Chew, president of Bayer Group Greater China
A1 Innovation is an important cornerstone for sustained economic growth and prosperity, for companies as well as nations. As China moves into a new phase of development, more emphasis will be placed on encouraging mass entrepreneurship and innovation.
Innovation is crucial for China's future growth prospects as innovation helps to create employment opportunities in terms of new jobs as well as new types of jobs. Our strategy is very much in line with the Chinese government's aim for a "healthy China" through innovation.
A2 Our mission is "Bayer-Science for a Better Life", and a better life would certainly include a clean and safe living environment. We believe that, in tackling pollution and raising environmental standards, China can ensure a better quality of life for the Chinese people. We are therefore very happy to see the emphasis on green growth as part of the Chinese government's plans. Sustainability is a fundamental principle of Bayer's business and operations. We reflect our strong commitment to sustainability, safety and health, not only in the safe and comfortable working environments that we provide for our employees, both in our offices and in our production facilities, but also in the products and solutions that we offer.
We believe our innovative solutions can help China achieve a more sustainable growth and a cleaner, safer environment.
A3 China has made clear that its target of "medium-to-high economic growth" is accompanied by the aim of achieving higher quality and more sustainable growth. This means making structural reforms, encouraging new growth engines in the Chinese economy driven by technology, innovation and mass entrepreneurship, and providing more business opportunities, while maintaining a steady growth and ensuring a better quality of life for the Chinese people. Thus far, we believe progress has been made to achieve this challenging objective.
A4 The fundamentals of China's growth prospects are very good. China has a large population with increasing income levels with a strong desire for a better life. This means better food security and food safety, better healthcare products and services and a cleaner, safer environment.
Bayer believes that China's shift in focus from an investment-driven and export-led economy to a consumption-driven economy with a focus on innovation and entrepreneurship, will help China achieve its goal of pursuing sustainable growth over the next five years.
This shift, coupled with the opening-up of markets, structural reforms, enhanced multilateral and bilateral cooperation, and reduced complexity and administrative hurdles will help stimulate economic growth in China and attract investment.
A5 Reduced restrictions will be a very good signal to foreign companies that China welcomes foreign investment and sees a big role for foreign companies to contribute to China's economic growth and a better life for the Chinese people. We have enjoyed very good support from the Chinese government and its foreign investment policies. These policies have enabled us to have significant and stable operations in China so that we can also live our mission, "Bayer-Science for a Better Life", in China by contributing innovative products and solutions.