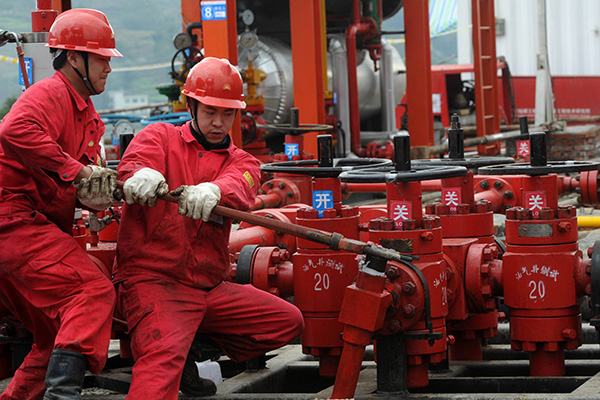 Workers install a gas pressure test device at a shale gas field in Yibin, Sichuan province. [Photo provided to China Daily]
China is poised to open up shale gas exploration even as the appetite for producing the fuel ebbs amid a global glut and a plunge in energy prices.
The Ministry of Land and Resources may announce details of the third round of shale gas auctions within two months, Guo Jiaofeng, a researcher at the Development Research Center of the State Council, a government think tank, said in an interview in Chengdu, Sichuan province.
An announcement is expected by the end of the year. The new blocks will be offered as interest in exploring China's shale potential has cooled amid falling prices and the country's challenging geology. Brent, the benchmark for more than half of the world's crude trading, has fallen more than 40 percent in the past year, pulling gas prices down with it.
The government is trying to lure more private companies in the next bid round as part of broader reforms of an industry dominated by State-run giants.
"It may not be the best time for private companies to bid for shale parcels," He Sha, a professor at Southwest Petroleum University, said.
"Falling oil prices, shrinking government subsidies and a lack of technology, among other things, will hurt private companies' chances to succeed in shale gas exploration."
China will cut subsidies for shale gas developers from 2016 to 2020 even as the country encourages explorers to produce more natural gas as a replacement for coal.
Shale gas subsidies will be reduced to 0.3 yuan ($0.05) per cubic meter from 2016 to 2018 and further to 0.2 yuan from 2019 to 2020 from 0.4 yuan currently, China's finance ministry said in April.
The oil and gas research center at the China Geological Survey, an affiliate of the ministry, has selected 40 parcels in northern and southern China and submitted the list to the land regulator for auction, Guo Tianxu, an engineer at the center, said.
The ministry may select more than 20 parcels from the list for the auction, he said. China last held shale gas auctions in 2012 when it awarded 19 blocks to companies, including coal producer Shenhua Group Corp and power generator China Huadian Corp.
None of the blocks offered then have yielded producing assets. PetroChina Co and China Petroleum & Chemical Corp, the country's largest and second-largest explorers, began major commercial shale gas production in 2013 at parcels allocated to them in Sichuan and Chongqing.
This year, ConocoPhillips ended talks with PetroChina on a shale gas development in Sichuan after a two-year study. China Petroleum, or Sinopec, is the country's biggest shale gas producer. Its Fuling field in Chongqing generates more than 10 million cubic meters a day.
The country's total proven shale gas reserves are estimated at 500 billion cubic meters, according to the Chinese Academy of Engineering.