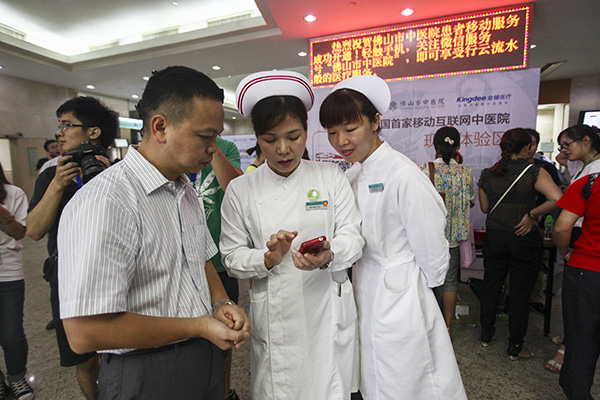 A medical worker shows a patient how to use WeChat to access hospital services in Foshan, Guangdong province. [Photo provided to China Daily]

Shandong-based company to use acquisition for expansion in Australian hospital sector
Luye Medical Group Co, the privately owned Chinese heathcare firm, has agreed to buy Healthe Care Australia Pty Ltd, one of that country's largest private hospital operators, marking the Chinese firm's first foray into the overseas hospital sector.
Healthe Care is being bought from private-equity owner Archer Capital for a reported A$938 million ($688 million), according to local media, although the final price was not disclosed. Archer had bought Healthcare from CHAMP Private Equity in 2011 for A$230 million.
The Chinese company outbid other investment buyers including private equity suitors Baring Private Equity Asia and Bain Capital. The takeover will be completed by the first quarter of 2016, according to a statement.
Shandong-based Luye officials said they were looking to expand their interests in China, Australia and other parts of Asia, and the acquisition would pave the way.
"The acquisition will help Luye bring in advanced medical technologies, operational models and management systems from abroad," said Luye Chairman Liu Dianbo, allowing the company to fulfill what he called the higher demands being put on China's healthcare sector.
Liu said the chance to take over the large-scale international hospital operator was "a rare opportunity" for Luye.
"Its advanced patient services and operational level will help Luye establish outstanding medical services in China and globally."
He said the agreement also positions Luye to benefit from a range of opportunities resulting from the recently signed free trade agreement between Australia and China.
The Sydney-based Healthe Care Australia operates 17 hospitals with nearly 2,000 beds in major Australian cities. It has more than 50 operation rooms, 4,500 staff members, and is considered a particular specialist in orthopedics, cardiovascular treatment, tumor rehabilitation, and maternity services.
Steve Atkins, its chief executive officer, said he considered the takeover as an acknowledgement of the hospital group's high-quality healthcare, and that the agreement will help it to build more hospitals in Australia and China.
Atkins said he was impressed by the vision and sincerity of Luye Group, and believed that it will support the company's business growth.
"Luye has bought into the growth plan that we pitched to them. Our immediate aspiration is to open at least another two or three new hospitals over the next five years," Sydney Morning Herald quoted Atkins as saying.
Luye Medical Group is a subsidiary of Luye Group, which also holds a large amount of equity in Hong Kong-listed Luye Pharma Group Ltd.
The move is part of the ongoing trend by Chinese hospitals and healthcare operators to acquire overseas peers, following China's rising demand for high-quality medical services.
Last week, Huapont Life Sciences Co Ltd, a Chongqing-based pharmaceutical maker, said that it will buy a 70 percent stake in Swiss Biological Medicine Group Ltd for no more than 210 million yuan ($32.82 million).