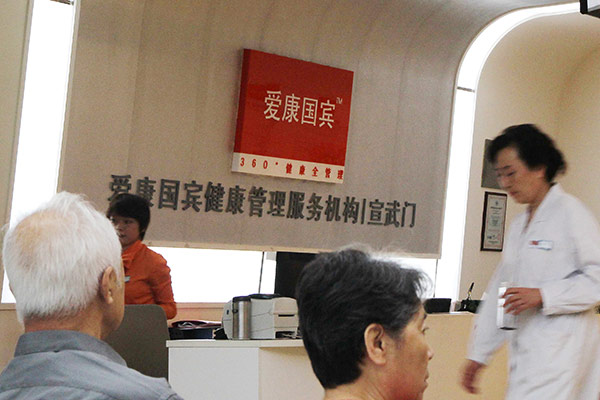 An outlet of iKang Healthcare Group in Beijing. [WANG YUELING/CHINA DAILY]
Jiangsu Sanyou Group Co Ltd, China's leading preventive health examination service provider, has formed a consortium to submit a non-binding $1.5 billion cash offer for local rival iKang Healthcare Group Inc.
The investment group plans to acquire all outstanding shares in iKang for $44 per share, or $22 per American depositary share, according to the proposal.
The price is 24 percent higher than the August bid of $17.8 per ADS for it, which was made by Zhang Ligang, iKang's founder and chairman. Shares in the Beijing-based, but Nasdaq-listed iKang closed at $16.77 last week in New York trading.
Jiangsu Sanyou, also known as Meinian Onehealth Healthcare (Group) Co Ltd, listed in Shenzhen in 2005 to become the country's first A-share listed health examination provider. Trading in its shares were suspended on Monday.
Zhang said in a statement on Sunday he would not sell the shares he owns or controls to any third parties, and did not support any competitive offer.
"The acquisition is hostile, and the consortium knows that the management team of iKang does not support the deal. The competition between iKang and Meinian is becoming increasingly fierce," Zhang said.
"This acquisition might help Meinian gain improper competitive advantage by creating interference for employees and customers of iKang. We will make every effort to protect iKang, and have the ability to run independently."
Meinian had more than 100 health check centers in 50 cities nationwide, and 5.28 million clients last year, while iKang claimed to provide healthcare services to 3.6 million people.
Meinian announced in September it was acquiring 72.22 percent of Ciming Health Checkup Management Group, China's third-largest medical examinations agency-a deal yet to be officially completed.