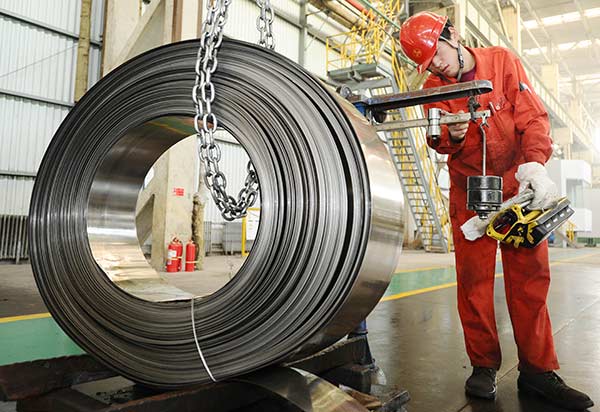 A worker at a steel plant in Dalian, Liaoning province, weighs alloy strips.[Liu Debin/For China Daily]
Iron ore demand is expected to fall further in China next year as the country continues to scale down steel output, according to forecast by an industry organization on Monday.
Demand for iron ore will fall by 4.2 percent in 2016 from a year ago, said the forecast, made by the China Metallurgical Industry Planning and Research Institute. Steel production will fall by 3.1 percent to 781 million metric tons during the same period, as economic growth continues to moderate.
Iron ore demand, which may fall by 0.4 percent this year, will decline by 4.2 percent in 2016 to around 1.07 billion tons.
According to the institute's estimates, total steel output this year will be about 709 million tons, while iron ore consumption is estimated at about 1.12 billion tons.
"Slower GDP growth, industrial upgrade of the conventional resources-driven growth and eliminating excess, outdated capacity have crimped demand for steel and as a result for imported iron ore. The slower offtake by downstream industries, such as real estate, construction, machinery, energy and automobile industries, has also contributed to the sluggishness," said Li Xinchuang, director of the institute.
Unsold inventories of commercial apartments continue to be at a high this year, the report said, adding that supply will continue to outstrip demand next year.
The total consumption of iron and steel for construction purposes this year is expected to be about 360 million tons, down 7.2 percent from the same period in 2014.
Machinery industry, another major steel user, saw slower revenue growth this year due to poor demand. Equipment with higher iron and steel consumption per ton will see more output declines next year, it said.
The automobile industry, the mainstay of the steel sector for long, recorded its slowest growth ever this year.
Total output for next year also does not give much comfort to steelmakers as output is set to grow by just 1 percent. With the industry increasingly veering toward vehicles with smaller sizes, the situation is not all that bright, said industry experts.
"In the long run, many iron and steel smelters may be shut down for failing to comply with the environmental protection standards," said Li. "However, as iron and steel industry is a capital and labor intensive industry, it is unrealistic to shut down all the outdated capacity in one go. Increasing the production efficiency by adopting intelligent manufacturing technologies is a better way to tide over the crisis."
Jiang Yan, a steel industry analyst, predicted that more than 80 percent of the existing steel companies are going to be eliminated.
"There are around 2,460 steel smelters in China. Only about 300 of them can survive. Mergers and acquisitions will take place frequently in the next three years," Jiang said.