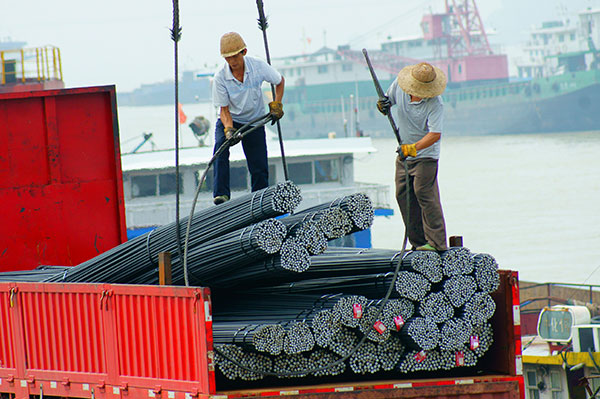 Workers load steel products at a logistics park in Yichang, Hubei province. [Photo/China Daily]
The China Iron and Steel Industry Association has rejected international industry claims that a global glut in supplies is the direct result of robust growth in Chinese steel exports.
Wang Liqun, the CISA's vice-chairman, said it strongly disagreed with a joint statement by nine foreign counterparts that claimed the Chinese steel industry "is the predominant global contributor" to the world's steel industry suffering "a crisis of overcapacity".
The rival associations-from countries including the United States, Canada and Brazil-released the statement earlier this month, expressing opposition to China's ongoing trade practices and claiming they had contravened World Trade Organization rules.
In a statement on Wednesday, Wang said China's steel industry has become a victim of trade protectionism.
He said the international industry's collective behavior amounted to unnecessary steel industry conflict, and that the statement was actually beyond the normal remits of such associations, regardless of the fact the sector had entered what must be considered one of the most competitive periods in its history.
"To simply attribute the difficulties in one country or region to Chinese enterprises is irresponsible," said Wang.
"It does not solve the difficulties facing the industry and does little to promote the healthy development of the global steel market."
He said the nine associations also published what he described as a perfunctory statement without any prior communication with China.
The CISA's stance, he said, was that while overcapacity remains a common issue globally, solutions require concerted efforts by all parties working together.
Over the past decade, the Chinese government and the country's steel enterprises have attempted various measures to resolve its own industry overcapacity.
Obsolete facilities have been shut down, which at the same time has helped tackle ongoing environmental protection issues.
Industry figures showed that 77.8 million metric tons of crude steel capacity have been cut nationally since 2011, with more expected.
China exported 93.87 million tons of steel last year, a 46 percent rise, and the CISA has predicted the figure will exceed 110 million tons this year.
But based on market demand, the Chinese steel mills cut output by 2.23 percent on a year-on-year basis from January to October, which represented a reduction of more than 15 million tons.
CISA's Secretary-General Liu Zhenjiang accepted that rising Chinese steel exports this year have affected certain markets, but said output adjustments had been made.
"It cannot be denied the country's increased exports have driven market forces," said Liu.
"But Chinese steel products have continued to be popular in export destinations because they are competitively priced."