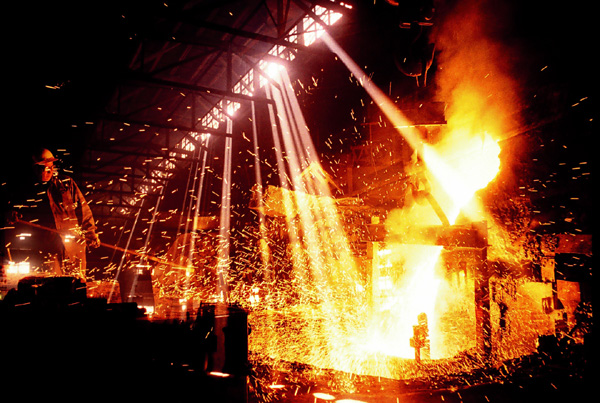 A foundry of Hebei Iron and Steel Group Co Ltd in Zhangjiakou, Hebei province. [Photo provided to China Daily]
Losses continued to mount for steelmakers in China during October, as the sector, once the mainstay of economic growth, reeled from overcapacity and waning demand.
Large and medium-sized iron and steel smelters posted combined losses of 14.8 billion yuan ($2.3 billion) in October, down 27.8 percent from the levels in September, according to a report in the Beijing-based Economic Information Daily.
According to industry data, during the first 10 months, large and medium-sized iron and steel smelters posted losses of 72 billion yuan. Among the 101 large and medium-iron and steel smelters, 48, or 47.5 percent, are in the red.
According to umetal.com, iron ore prices have fallen to a new low of 293.5 yuan per ton. However, the slump in prices has not helped steel companies to turn losses into gains.
Crude steel consumption was just 590 million tons during the first 10 months, down 4.55 percent from the same period a year ago. Crude steel output fell to 675 million tons, down 2.2 percent year-on-year. In other words, consumption has fallen more sharply than output, said industry sources.
"The real estate industry is cooling down and the demand for iron and steel is sliding accordingly," said Tian Yan, a steel analyst with chem99.com, a website that tracks bulk commodities.
Commercial housing inventories stood at 686 million square meters at the end of October, up 3.2 percent from the end of September.
Among the 55 listed steel companies, 26 have released full-year profit estimates. Twenty-two of the 26 companies have estimated losses or decreases in their profits compared with the same period last year.
"Most of the steel companies, especially those that have just expanded their production capacity in recent years, are reeling from losses," said Chi Jingdong, deputy secretary-general of the China Iron and Steel Association
Compounding the problems has been the growth in production capacity, despite lower demand, said Chi.
According to Chi, by the end of 2018, domestic iron and steel production capacity will have exceeded 120 million tons. Yet the current consumption capacity in the domestic market is around 700 million tons with 100 million tons for exports. The competition in the future is only going to grow more fierce, he said.
"The recession in the industry is going to last another three to five years," said Tian from chem99.com.
Tian said that iron and steel companies must cut costs and develop more technically intensive products. The other option, would be to boost exports to markets like Africa and the Middle East, where demand is rising, Tian said.