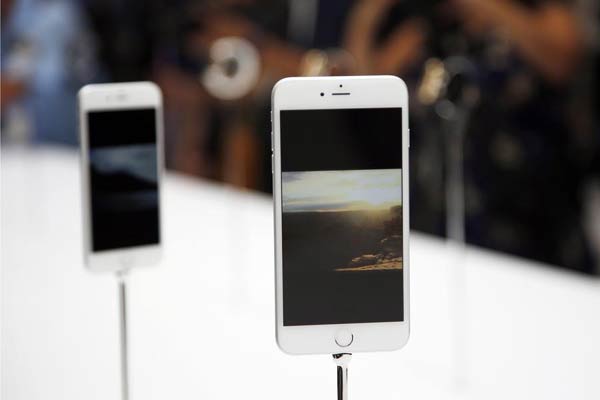 A new Apple iPhone 6 Plus is seen during an Apple event at the Flint Center in Cupertino, California, Sept 9, 2014. [Photo/Agencies]
Sluggish smartphone demand in China is bringing down year-on-year worldwide shipment growth rate to 9.8 percent this year, the first single-digit performance on record, research company International Data Corp warned on Friday.
The economic slowdown and the already-high penetration rate of smartphones on the Chinese mainland will drag shipment growth to "single digits" in 2015, it said.
More than 1.4 billion smartphones will be shipped worldwide in 2015, compared to last year's 1.27 billion, IDC said. The consultancy also estimated that shipment growth may slow to 4.7 percent by 2019, when less than 1.9 billion devices will be manufactured.
China, the world's largest electronics market, is responsible for nearly 30 percent of the global handset shipments. The country's share may shrink roughly by a fourth by 2019 as shipments from India, Indonesia and other emerging markets grow.
Anthony Scarsella, mobile phone market research manager at IDC, said: "As shipment volumes continue to slow across many markets, consumers will be enticed by affordable, high-quality handsets and the various financing options for pricier models."
The 1,000 yuan ($150) to 2,500 yuan price range is considered to be the segment that will see the maximum competition.
Wang Ying, a smartphone market researcher at Beijing-based Analysys International, said a slowdown in the Chinese market is inevitable as first-time smartphone buyers are dwindling rapidly.
"With fewer new buyers entering smartphone stores, vendors have to persuade existing users to buy updated products for replacement, something that is not so easy to do," Wang said.
Analysys International also forecast a cooling in the Chinese market but gave a more moderate estimation of a 14.3 percent year-on-year jump in 2015 smartphone sales. The rate was 22.8 percent in 2014.
Chinese vendors such as Xiaomi Corp, Huawei Technologies Co Ltd and LeTV Holdings Co Ltd are taking advantage of inexpensive products and online sales to grab market share enjoyed by overseas brands such as Samsung Electronics Co and HTC Corp.
Wang said Chinese vendors have became a dominant force in low-and mid-end markets and may soon break into the premium sector. "The tough price war in the lower-end market has left vendors with extremely thin profit margins," Wang said.
She said some players are attempting to attract users with video content and other services, but the strategy may only work for those with deep pockets as access to such services is costly.
Entering the high-end market remains a difficult task for Chinese companies. In October, Huawei cut prices of its high-end product line, including the 4,000 yuan flagship Mate S due to weak market performance. The Mate S currently sells at 2,800 yuan online.