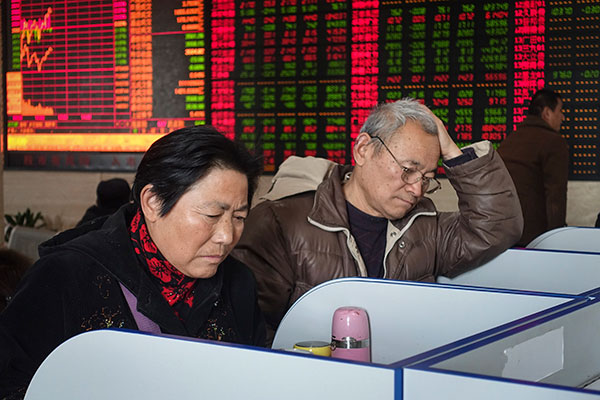 Investors at a brokerage in Fuyang, Anhui province. On Dec 4, the benchmark Shanghai Composite Index declined by 1.67 percent to close at 3,524.99 points. [Wang Biao/For China Daily]
Draft rules revised to shorten share suspension time
China will implement the circuit-breaker mechanism in its bourses from next year as part of its efforts to check abnormal price swings in the capital market.
According to the rules announced by the Chinese bourses on Friday, trading of stocks, index futures and options will be suspended for 15 minutes when the stock index CSI 300, which tracks some of the largest-cap stocks in Shanghai and Shenzhen, fluctuates by 5 percent.
Trading will be halted for the remainder of the day when the index moves by 5 percent after 2:45 pm or 7 percent at any time during the trading session, according to the rules.
The market rout between June and August that wiped out $5 trillion of market value has prompted the capital market regulator to consider the circuit-breaker mechanism, which is designed to temporarily halt trading so as to avoid market panic after the stock index has fluctuated a certain percentage.
The latest announcement revised the draft rules, which were circulated for public opinion in September, by shortening the trading suspension time to 15 minutes from the proposed 30 minutes.
Investors had earlier expressed concerns that a 30-minute trading suspension would cause liquidity problems as individual stocks are already subject to the 10 percent daily trading limit.
"Shortening the suspension time will reduce the mechanism's impact on market liquidity," the Shanghai Stock Exchange said in a statement.
Deng Ge, a spokesman for the China Securities Regulatory Commission, told a news conference that the regulator will continue to improve the trading mechanism based on future market responses after the introduction of the new mechanism.
"Based on international experience, the introduction of the circuit-breaker mechanism is not a 'once for all' decision ... and requires constant adjustment. The present rules are based on the unique characteristics and trading habits in the Chinese market," he said.
The United States introduced the market-wide circuit-breaker mechanism after the stock crash in 1987. The country also installed trading suspension mechanism for individual stocks after the infamous "flash crash" in 2010.
Zhang Jie, a professor at the capital research center of the China University of Political Science and Law, said that the introduction of the circuit-breaker mechanism is a positive development for the Chinese capital market as it will help avoid panic trading and maintain fair play.
"When the stock market experiences substantial volatilities, the mechanism could protect the interest of small investors who are at a disadvantage due to lack of information," he said.
Zhang said that the mechanism could also help curb risks of trading stock index futures as the trading suspension offers investors the opportunity to deposit additional money to avoid forced liquidation when they face margin calls from their brokers.
On Friday, the benchmark Shanghai Composite Index declined by 1.67 percent to close at 3,524.99 points.