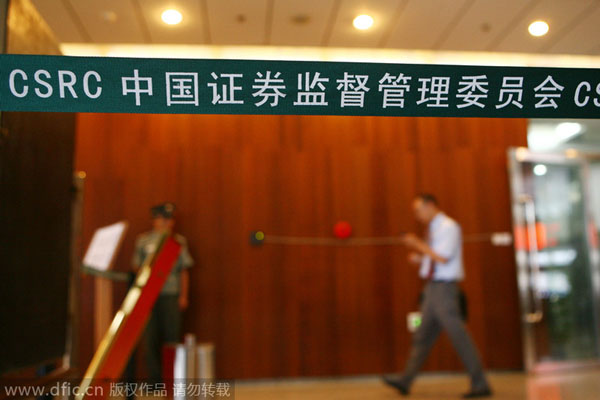 The headquarters of China Securities Regulatory Commission in Beijing, July 7, 2006. [Photo/IC]
Capital market regulator may relax approval requirements for IPOs, corporate refinancing
China's securities watchdog vowed on Friday to streamline its regulatory powers in an attempt to eradicate power abuse and corruption within the agency.
The China Securities Regulatory Commission said it was considering removing the approval requirements for initial public offerings and refinancing plans of companies that are outside the purview of the country's Securities Law, to reduce administrative controls and boost market efficiency, Zhang Xiaojun, a CSRC spokesman, told a news conference on Friday.
The process also includes speeding up the approval process for new share sales and tighter regulation on the members of the approval committee to prevent conflict of interest and power abuse, Zhang said.
The announcement came after Yao Gang, former vice-chairman of the CSRC, was investigated by the country's anti-graft agency two weeks back, underscoring Beijing's determination to root out corruption within the CSRC.
Dong Dengxin, a securities researcher with the Wuhan University of Science and Technology, said: "The regulator's move is a positive step for the Chinese stock market which has been dogged by excessive administrative control and intervention, which has led to rampant rent-seeking and corruption."
The regulator's announcement has also been viewed as a preparation for the eventual launch of the registration-based IPO mechanism that emphasizes information disclosure and regulation rather than corporate profitability.
The new IPO mechanism is subject to the amendment of the Securities Law, which is being reviewed by the National People's Congress.
Dong said that the latest regulatory move to streamline the IPO process is an important preparation for the launch of the registration-based IPO system, which is crucial for China to build a market-driven capital market.
At Friday's conference, the regulator said that the Shanghai and Shenzhen stock exchanges are drafting rules and regulations for the new IPO scheme, and said that preparations for the launch are "well on the way".
In a separate statement, the regulator pledged to tighten inspection and regulation on the country's securities firms after it found that some of the firms have been conducting margin trading illegally for their clients through the over-the-counter derivatives business to evade regulations.
Meanwhile Agence France-Presse reported that three of China's biggest brokerages are being probed by the regulator for suspected "rule violations". The report said Haitong Securities Co, China's second-biggest brokerage by assets, and eighth-ranked Guosen Securities Co-whose president hanged himself weeks ago-both confirmed that they were being probed by the CSRC. Their announcements came shortly after the country's largest broker, CITIC Securities, said late Thursday it was the subject of an inquiry.