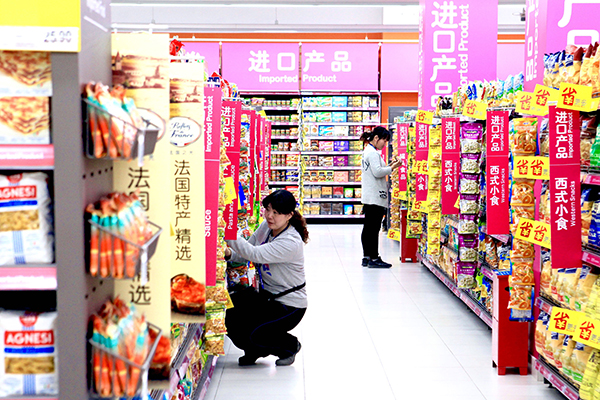 Two employees arrange goods on the shelves at the imported products area of the newly opened Carrefour outlet in Beijing on Friday. The hypermarket is home to more than 40,000 products, of which about 6,000 are imported. [Photo provided to China Daily]
French retailer Carrefour SA opened its largest store in Asia on Friday in Beijing to cash in on the growing demand for imported food from medium- and high-end consumers, amid testing times for international retailers in China.
The new outlet is located on the North Fourth Ring Road and is adjacent to Swedish home-furnishing retailer Ikea's sprawling facility. The two-story hypermarket has more than 80 stores including fast fashion brand Uniqlo and C&A, sportswear retailer Decathlon, as well as the first Baidu Concept Store, an experience store for hardware products.
Spread over an area of 71,380 square meters, the hypermarket is home to more than 40,000 products, of which more than 6,000 are imported. It also has 800 free parking spaces and is the 20th store of the French retailer in Beijing.
The building has 15 electric charging stations for shuttle buses and five underground charging stations for electric cars.
Laurent Olszewski, regional manager for the North-West China region at Carrefour, said the company has taken care to have enough wide entrances and alleyways at the hypermarket.
"We are focusing on imported food products as there has been a sea change in the food preferences of Chinese consumers. It is quite different from what I saw when I first came to China in 1995," said Olszewski.
Pointing to imported salt from France and beef from Australia, he said: "Chinese consumers want to try everything."
Olszewski said Carrefour is expanding its e-commerce business by January next year after finishing work on the logistics center in Tianjin.
Carrefour's current expansion is an indication that the French retailer is not swayed by the growth slowdown in China. Rather, the new outlet is seen as a move by the company to gain more consumers with higher incomes, said experts.
Kantar Worldpanel, an industry consultancy, said in a report that hypermarkets, supermarkets and convenience stores saw sluggish growth in China during the third quarter of the year. The growth rate in such format stores was just 2.4 percent in the third quarter compared with the same period a year earlier. In first-tier and second-tier cities, large store formats like hypermarket saw growth slowing to 1.4 percent.
International retailers are still struggling for a turnaround, said Jason Yu, general manager of Kantar Worldpanel China. The collective share of international retailers in the total retail pie fell by 1 percent to 13.5 percent during the third quarter, compared with the levels a year ago.
International retailers not only lost ground in their stronghold of first-tier and second-tier cities, but also failed to expand their presence in lower-tier cities, said Yu.