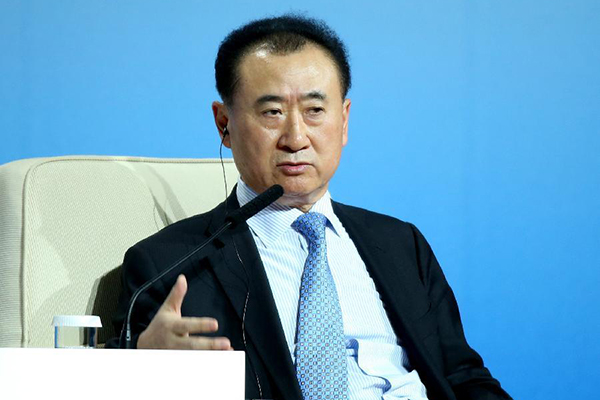 Wang Jianlin, Chairman of China's Dalian Wanda Group Co, speaks at a summit brainstorm on future trends during the 2014 Asia-Pacific Economic Cooperation (APEC) CEO Summit in Beijing, Nov 10, 2014. [Photo/Xinhua]
BEIJING - Chinese billionaire Wang Jianlin never conceals his ambition to build a world leading sports company.
Wang's Wanda Group has set up Wanda Sports company, an integration of sports marketing company Infront Sports & Media and World Triathlon Corporation (WTC).
Wanda Group, a real estate giant in China, announced on Wednesday they appointed Philippe Blatter, FIFA president Sepp Blatter's nephew, president and CEO of Wanda Sports.
"The significance of establishing Wanda Sports is not only to integrate Wanda's interests in sports, but also to truly expand and strengthen Wanda's businesses in the industry," said Wang after the announcement.
Setting up the company was Wang's latest move to seize a big share of China's sports industry cake, which seems all the more lucrative as Beijing won the right to host 2022 Winter Olympic Games.
The Chinese government last year mapped out a plan which aims to grow its sports sector into a 5-trillion-yuan ($813 billion) industry by 2025.
The expectations have drawn hugh investment into the sector.
In less than a year, Wanda bought stake in Spanish La Liga champions Atletico Madrid, merged Infront and then bought WTC in August, spending about 11.6 billion yuan ($1.85 billion) in this area.
E-commerce titan Alibaba also showed great interest as they first paid 1.2 billion yuan ($192 million) for 50 percent stake in Guangzhou Evergrande, China's most successful soccer club and two-time Asian Champions League winner.