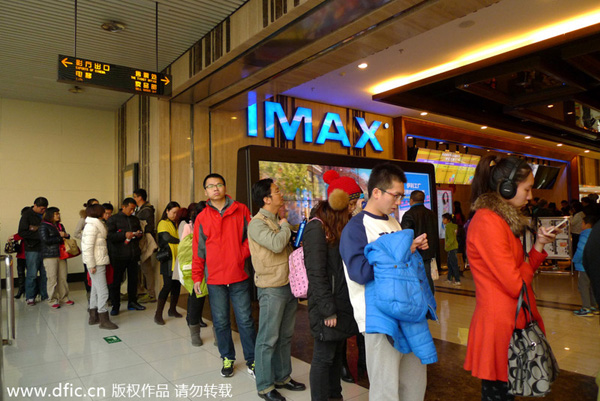 Moviegoers queue up to buy tickets at a cinema in Beijing, Feb 9, 2014. [Photo/IC]
China's box office receipts hit a record high of more than 40 billion yuan ($6.25 billion) as of Thursday night, an increase of more than 48 percent year-on-year, according to the country's film industry watchdog.
Revenue created by Chinese-made movies reached 23.7 billion yuan, taking in more than 59 percent of the total box office receipts and posting a year-on-year growth of 73.1 percent, according to statistics from the State Administration of Press, Publication, Radio, Film and Television.
Last year, national box office revenue totaled 29.64 billion yuan.
Six domestic productions made the list of the top 10 highest-grossing films during this period. The live-action animation Monster Hunt grabbed the highest ranking, with total ticket sales of 2.44 billion yuan, which also makes it the country's highest-grossing film to date.
The Hollywood blockbuster Furious 7 followed, with ticket sales of 2.43 billion yuan. Other foreign productions that made the list are Avengers: Age of Ultron, Jurassic World and Mission: Impossible - Rogue Nation.
It's expected that the total box office earnings for this year will reach between 42 billion and 43 billion yuan, and home-grown movies are to account for more than 60 percent of the total ticket sales, said Fu Yalong, director of research at EntGroup Consulting, a Beijing-based entertainment industry consultancy.
Information and statistics from EntGroup's database showed that about 28 movies are scheduled to be released from Tuesday until the end of the year, and only one is a Hollywood production - Rush, which stars Chris Hemsworth, who plays Thor in the popular Marvel Comics movies.
Chinese movies due for release this month that have great potential at the box office include the action-adventure feature The Ghouls, Mr. Six, which stars the renowned film director Feng Xiaogang, and Surprise, which grows out of the popular Internet comedy series, said Fu.
"The improvement in filmmaking quality, especially for domestic productions, and Chinese audiences' increasingly mature film-watching habits have contributed to this explosive growth of China's movie market," Fu said.
The nationwide expansion of theaters and screens also helped to boost growth at the box office. The number of theaters reached 5,780 by the end of last year, with 23,630 screens, according to statistics from Analysys International, a Beijing-based information technology consultancy. By the end of November, the number of screens had grown to 30,809, while urban theaters expanded to 6,210, data from the film watchdog showed.