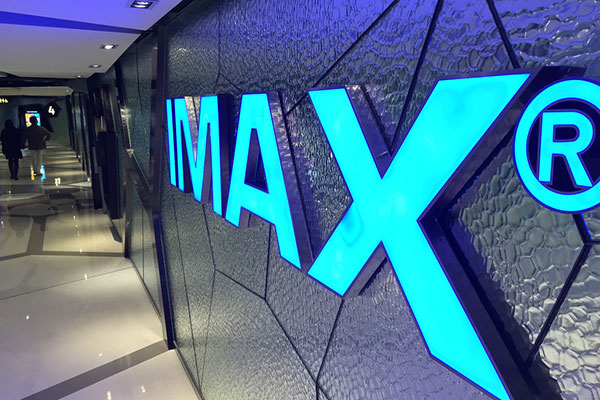 A signboard of IMAX is pictured at a cinema in Shanghai, January 15, 2015.[Photo/IC]
Shares in the Chinese unit of IMAX Corp and the world's biggest manufacturer of bras surged in their Hong Kong trading debuts on Thursday, a sign of reviving market confidence that bodes well for upcoming larger initial public offerings.
After taking a beating in the latest quarter, the Hong Kong IPO market will be tested in the next few weeks as distressed debt manager China Huarong Asset Management Co Ltd and China Reinsurance (Group) pitch offerings worth a combined $5 billion.
The offers had received approval weeks ago but pitches to investors had been delayed after a steep sell-off in Chinese equities this year and turmoil in other global share markets.
Shares in IMAX China Holding Inc jumped 7.1 percent to HK$33.20. Regina Miracle International (Holdings) Ltd, which makes lingerie for global brands like Victoria's Secret and Calvin Klein, soared 14.1 percent higher than its IPO price.
"This is very, very positive. It should help all these companies that were waiting on the sidelines to go and get their deals to market," said a Hong Kong-based equity capital markets banker who was not authorized to speak publicly on the matter.
IMAX China and Regina Miracle raised a combined $460 million in their IPOs-some of the first offerings after a long drought.
IPO activity tumbled 36 percent in Hong Kong in the first nine months of 2015 from a year ago as concerns grew over a slowdown in China's economy and higher interest rates in the United States.
For the third quarter, proceeds from equity deals in Asia Pacific sank 57 percent from the second quarter, with the value of IPOs falling to its lowest level since March 2013, Thomson Reuters data showed.
IMAX China said its business has grown strongly, with the average box office revenue per screen in greater China up nearly 33 percent in the first half of 2015 from the same period last year.
Morgan Stanley was the sole sponsor of the IMAX China IPO, while China International Capital Corp and Goldman Sachs were also joint bookrunners. The underwriters stand to earn a combined $8.3 million in fees from the deal.
Morgan Stanley was also the sole sponsor of the Regina Miracle IPO, with CITIC CLSA acting as joint bookrunner. The banks stand to jointly earn up to $9.6 million in commissions from the deal. Irish China expert takes the 'hard' out of hardware