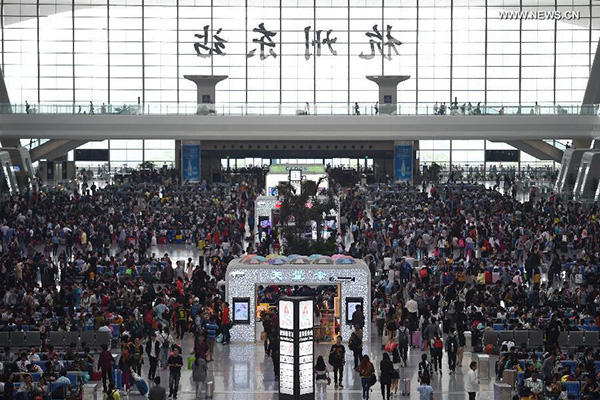 Passengers wait for their trains at the east railway station of Hangzhou, capital of east China's Zhejiang province, Oct 7, 2015. A travel peak is seen in Hangzhou on Wednesday, the last day of the seven-day National Day holidays. [Photo/Xinhua]
BEIJING - Chinese enthusiasm for travel during the National Day holiday that ended on Wednesday has not been dimmed by the slowing economy, data from the country's aviation regulator and railway operator has suggested.
The number of travelers on domestic and international flights reached 8.96 million during the seven-day period, 9.8 percent more than last year, according to figures released by the Civil Aviation Administration of China (CAAC) on Thursday.
During the holiday, airlines operating in China ran more than 73,000 flights, up 17.7 percent year on year. The average seat occupancy rate hit 78.5 percent.
Airlines added 5,812 domestic flights and 675 international and regional flights to meet demand.
Most were punctual though airports in southern cities including Haikou and Sanya were affected by Typhoon Mujigae and bad weather, said the CAAC.
Some 98.8 million passenger trips were made by train during a 10 day period before and during the holiday, up 8.6 percent year on year, according to the China Railway Corporation.
Trips by high-speed train reached 43.4 million, a 30.3 percent increase from last year.