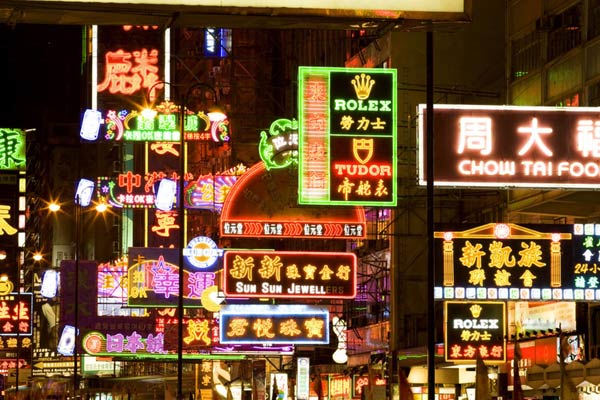 Night view of neon-lit billboards along a road in Hong Kong, China, March 2013. [Photo/IC]
It was a lukewarm Golden Week for the Hong Kong Special Administrative Region as the number of visitors to the city remained stagnant at levels seen during the same period a year earlier.
Confounding the SAR's woes were reports from several leading retailers about sluggish sales.
The Hong Kong SAR Immigration Department said on Wednesday that during the first six days of the National Day holiday starting Oct 1, the city received more than 1 million visitors from the mainland, or 3.26 percent more than last year.
The holiday, also known as the Golden Week, is one of the longest nationwide holidays and an important peak season for Hong Kong's tourism industry.
Six days into the Golden Week, Hong Kong recorded 2.45 million visitors arriving in the city, 5.82 percent less than the same period in 2014. The busiest day was Oct 2, when 443,640 visitors passed border check points. Among them, 202,703, or 45.69 percent, came from the mainland.
Yet on the street level, this Golden Week was less glaring than the previous ones. Few mainland shoppers were seen queuing up outside the luxury stores along Canton Road in Tsim Tsa Tsui, one of the city's prime shopping hot spots.
"This year Hong Kong received a lot of transit passengers and many other visitors are single-day returns. That is why this Golden Week appears to be quieter," Joseph Tung Yao-chung, executive director at the Travel Industry Council of Hong Kong, told China Daily.
According to Tung, the fact that many destinations in the region relaxed visa application thresholds to mainland tourists has changed the game. "It's now much easier to visit countries such as Japan, South Korea and even the United States. Competition is fierce for Hong Kong," he said.
However, Macao, the peer city of Hong Kong, recorded 799,717 mainland tourists from Oct 1 to 6, 6.3 percent more compared with 2014. Total visitors arriving at Macao also increased 1.8 percent year-on-year to 938,197 during the same period.
Gregory So Kam-leung, secretary for commerce and economic development of Hong Kong, said on Tuesday that the city needs to develop more attractions to stay competitive. He added bad weather also has affected the holiday atmosphere.
Tung said protests against mainland tourists earlier this year did not drive visitors away, as such activities involved "only very few people" and "Hong Kong in general welcomes tourists".
He said that with discounts offered, hotels in the SAR still managed to fill 80 to 90 percent of their rooms. "The key is to do more promotions and attract more overnight visitors. We have confidence in local catering and shopping offers. Hong Kong is still one of the top choices for mainland tourists."
Other sectors are not so optimistic. Ahead of the weeklong holiday, the Hong Kong Retail Management Association forecasted "a single-digit to a low double-digit drop in sales value" for most of the member companies during the Golden Week compared with the same period last year.