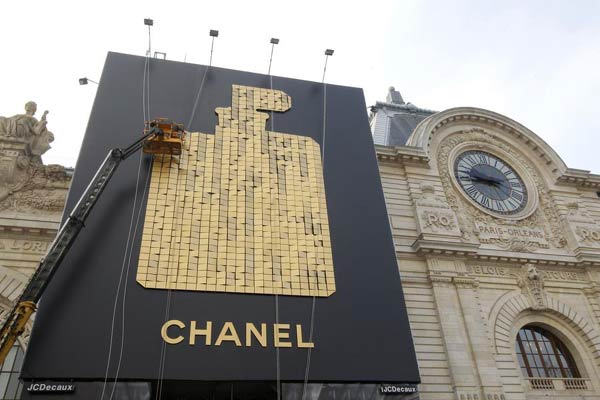 A crane removes a huge advertisement for Chanel No 5 perfume installed on the facade of the Musee d'Orsay in Paris in this January 31, 2011 file photo.[Photo/Agencies]
A new KPMG report said on Tuesday online deals for luxury goods are surging in China.
The report comes amid growing concern that sales of luxury goods have been dwindling of late.
The global accounting firm released the report in association with mei.com, an online retailer of luxury goods.
According to the report, China's growing middle class is migrating to online platforms from brick-and-mortar outlets to buy products like luxury watches, bags and other status symbols.
The report, based on a survey of more than 10,000 consumers of luxury goods, said 45 percent of respondents chose e-commerce sites as their top choice for buying luxury goods. On average, they spend 2,300 yuan ($362) per deal online, up by almost a third from a year earlier.
Social networking sites and smart phones are luring more and more buyers of luxury goods to shopping websites, the report said.
Secure online payment tools appear to reassure consumers. Respondents said they would be willing to pay bills up to 4,200 yuan via third-party mobile payment platforms. Last year, the corresponding figure was 1,900 yuan.
The report also said price sensitivity of consumers seems to be changing.
Though low prices and big discounts are still the main draw of e-commerce sites, almost one third of the respondents said they bought luxury goods online at full price at least once.
"The shift indicates that more factors are weighing on consumers' purchasing decisions, such as whether the product is unique and where it is made or designed," the report said.
Agreed Thibault Villet, CEO of mei.com. "Low price is playing an increasingly smaller role in driving online sales. Chinese consumers now can travel around the world or search through websites to know how a product is priced globally."
In terms of average consumer spending, luxury bags have seen the biggest year-on-year rise of 109 percent. They were followed by female clothing and cosmetics, up 58 percent and 18 percent respectively, the KPMG report said.
But cosmetics topped the list of the most popular luxury goods, followed by female shoes, bags and clothing.
Besides luxury goods, more and more consumers are buying luxury services online like high-end hotel bookings and international trips, the report said without specifying numbers.