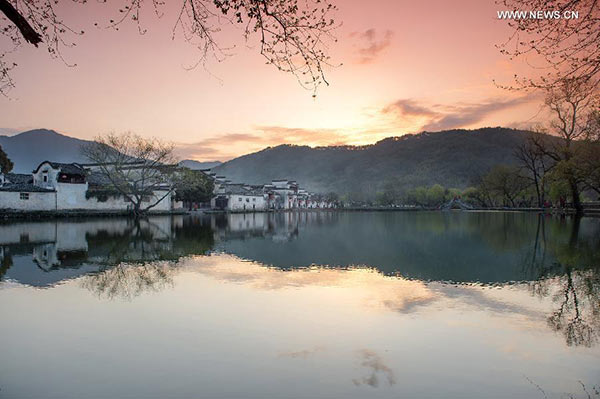 Photo taken on March 25, 2015 shows the morning scenery of Nanhu, or South Lake, at Hongcun, an ancient village in Yixian county of Huangshan city, East China's Anhui province. Listed as a world cultural heritage site, the village preserved a remarkable extent of the surviving examples of Anhui-style architecture. [Photo/Xinhua]
BEIJING -- While most Chinese are relaxing as part of the week-long National Day holiday, Wang Zaolin is dealing with his busiest time of year.
The peak travel week brings floods of city-dwellers to his hotel to seek pastoral pleasures. The rustic hotel in Hongcun, an ancient village in east China's Anhui Province, has 20 beds and can accommodate 100 people.
"Both visitors and revenue have surged nearly 50 percent so far this year," said Wang, adding that he is experiencing the best business since the hotel opened in 2000.
Wang attributed the boom mainly to a nearby high-speed railway, which started operation in June, and the Internet.
The Hefei-Fuzhou high-speed rail line stretches for about 800 kilometers through southeast China and has substantially cut travel time in the mountainous region.
Wang began to advertise his hotel on a tourist website earlier this year, and visitors are rapidly increasing. He calls his hotel "a small example of 'Internet Plus' tourism," referring to a government plan to link traditional industries to the Internet to fuel growth.
Wang made 200,000 yuan (some $31,500) last year, and he is expecting "a better harvest" this year.
In China's southern island province of Hainan, Wang Liqiang, a newcomer in the village hotel business, is also benefiting from blossoming rural tourism.
Wang's village, Beireng, became famous after it was visited by wives of state leaders during the annual Boao Forum for Asia in March. He sensed business opportunities and opened a hotel named "Nostalgia."
During the National Day holiday, known as "golden week" for travel in China, Wang serves visitors vegetables and fowl he grows and raises himself on the seaside property surrounded by lush coconut trees and bamboo fences.
Wang and 35 of his fellow villagers recouped their 1.2-million-yuan investment in May and began to turn a profit.
"We are embracing a golden chance to shift from traditional farming to the modern service sector with much higher returns," said Wang.
According to data released by the China National Tourism Administration (CNTA), China has more than 1.9 million village hotels, where urbanites can have a taste of rural life, such as feeding livestock, picking pumpkins, or just sitting at leisure to enjoy fresh air and the chirping of birds.
Last year, 1.2 billion trips were made to village hotels, accounting for about one-third of China's total tourism. Revenue in the sector surged 15 percent to 320 billion yuan.
"About 70 percent of tourist trips on the weekends are now made to the countryside around cities," said CNTA director Li Jinzao.
In China, agriculture is becoming increasingly mechanized, requiring less manual labor. Young farmers move to cities to become migrant workers or stay in villages to seek jobs with higher returns than farming.
"Through rural tourism, farmers can reinvigorate their idle agricultural resources. The economic structure in the countryside will also be improved," said Li.
International hotel giants, including Hilton, Four Seasons and Banyan Tree, have entered China's rural tourism market to grab a share of the lucrative business.
"Rural tourism has helped to change the backwardness of many remote rural areas," said Li, adding that over 10 million people have emerged from poverty in the last five years thanks to rural tourism.
According to him, at least 50 percent of China's 128,000 impoverished villages have the potential to develop rural tourism, and the industry will be "one of the government's main approaches for poverty alleviation."
China aims to increase the number of village hotels nationwide to three million by 2020, and lift two million people out of poverty every year, according to a guideline released by the central government in August.
"Rural tourism can provide new business opportunities, help preserve beautiful scenery, and push forward urbanization," said Dai Bin, head of the China Tourism Academy.