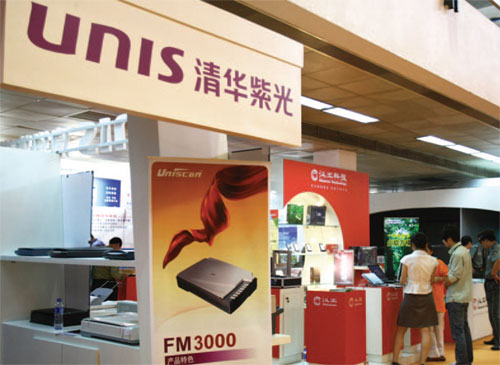 The stand of Unisplendour Corp Ltd, a listed company under Tsinghua Unigroup Ltd, at an international technology expo in Beijing. Provided to China Daily 
Tsinghua Unisplendour announced purchasing 40,814,802 shares from Western Digital Co (WDC) with $3.8 billion on Wednesday. The Shenzhen-listed Tsinghua Unisplendour will hold 15 percent of shares issued by NASDAQ-listed WDC, becoming the major shareholder and board member of the company.
"This is the first time for a Chinese company to become major shareholder of a world-leading American technology company," said Xu Jinghong, Chairman of Tsinghua Holdings Co.
Zhao Weiguo, Chairman of Tsinghua Unigroup and Unisplendour Corporation, also expressed high expectation from this collaboration. "We believe this long-term investment will serve as a constructive collaboration model for Chinese and US companies to work together for success," said Zhao.
WDC has long been a leader in external storage market. "The equity investment by Unis will help facilitate our growth as we look to capitalize on the many opportunities and changes within the global storage industry," said Steve Milligan, President and Chief Executive Officer of WDC. "This investment reflects Unis' strong support for Western Digital's value-creation efforts."
The closing of this investment transaction is subject to certain regulatory approvals and other customary closing conditions.