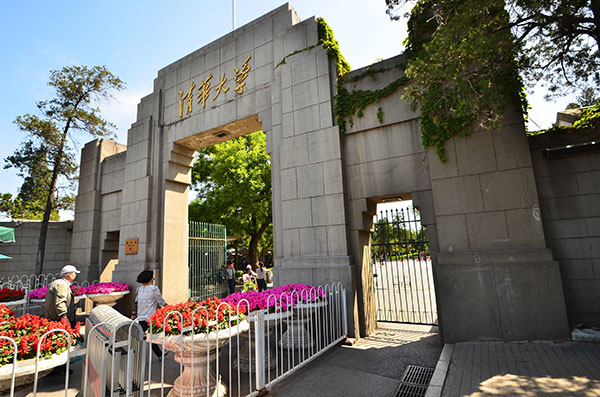 The western gate of Tsinghua University. The Beijing-based university has become the country's richest institution for higher learning with its annual revenues reaching 12.36 billion yuan in 2014. [Photo provided to China Daily]
Beijing-based varsity generates annual revenue of $1.93b in last fiscal year
Beijing's Tsinghua University, one of the two most prestigious institutions for higher education in China, has been crowned the country's wealthiest school, with annual revenues reaching 12.36 billion yuan ($1.93 billion), a new ranking said.
It was followed by Zhejiang University, Peking University and Shanghai Jiao Tong University, according to a list of the richest universities in China based on balance sheets from 76 varsities.
Though Chinese universities are getting closer to the top global institutions in terms of investment, gaps still exists in their funding, said Xiong Bingqi, vice-president of the 21st Century Education Research Institute in Shanghai.
Tsinghua University expects annual revenue of 12.36 billion yuan for its 2014 fiscal year, followed by Zhejiang University with 10.9 billion yuan and Peking University of 8.6 billion yuan.
The United States-based Harvard University reported an income of $4.2 billion for the fiscal year 2013, while the financial overview by the US-based Yale University indicates it had total revenue and investment returns of about $6.296 billion for the fiscal year ending June 2014.
Unlike many top universities abroad, which see a larger proportion of donations for better financial independence, Chinese universities usually see very few donations compared with the fiscal appropriation, said Xiong.
While the endowment in Harvard University reached $36.4 billion in fiscal 2014, Wuhan University, the sixth-richest in China, and Huazhong University of Science and Technology, the eighth-richest, received respective donations of 40.69 million yuan ($6.35 million) and 27.49 million yuan ($4.29 million) last year, according to their balance sheets.
Alumni, parents, and friends also make gifts to Yale with many kinds of assets and in a variety of forms, including cash, checks, credit card payments, gifts of marketable securities, and other assets, according to the school.
"The major sources of revenue for most Chinese universities are fiscal appropriation and revenue undertakings, while some European and US universities see the major source of revenue being donations from alumni," he said.
"Too much fiscal appropriation from the government will interfere with the administrative reviews and education and academic research to some extent."
According to the list, compared with universities offering literature and social sciences, science and engineering institutions generate more revenue and expenditure due to their massive outlay on scientific research.
Most of the universities under the 985 Project, a decade-old government-run education plan for setting up world-class universities in the country, are reliant on fiscal appropriations, which account for as much as 60 percent of the total revenue, he said.
Universities from the 985 and 211 Project, another official higher education program, also receive the most national educational resources, he said.
Fudan University, Wuhan University, Jilin University, Huazhong University of Science and Technology, Sun Yat-sen University and Sichuan University were also among the top 10 richest schools in China.